Are you frustrated with Bluehost hosting services and searching for the best Bluehost Alternatives?
If yes, you are in the right place.
There is no doubt that Bluehost is one of the most popular web hosting providers in this segment.
Many professional bloggers and the official website of WordPress also recommend Bluehost for their users.
Today in this blog post, I will tell you some of the best Bluehost Alternatives
You can shift your website to deliver an excellent user experience to your visitors, which consequently makes it highly possible to convert your abandoning visitors into loyal ones.
But since Bluehost collaborates with the EIG(Endurance International Group), their performance gets some serious server problems.
Let's now check out the list which I have researched as an alternative to Bluehost;
Before going through alternatives to Bluehost, it is very important to know why you need them?
To make it simple for you, I have mentioned the pros and cons of BlueHost in the below table. Have a look at them:
Best Bluehost Alternatives for Shared Hosting
| | |
| --- | --- |
| Pros | Cons |
| Affordable Price Range | Constant upsells |
| Solid uptime | Only US-servers |
| Unmetered bandwidth | Speed could be better: |
| Generous storage | Poor backup options |
1. FastComet (Cheap & Affordable Bluehost Alternatives):

FastComet is an excellent alternative to Bluehost, which comes with tons of resources.
It is one of the best options at a low price among Managed WP WordPress Hosting.
FastComet comes with free website migration, a free domain name for a lifetime(Bluehost offers a free domain name only for the first year), 27×7 Security, Power backup, etc.
Moreover, It also has fire protection systems, multi-data servers worldwide, high security to prevent your site from malware attacks, and a lot more mouth-watering functionality.
FastComet also provides a 45-day money-back guarantee, whereas Bluehost comes with only a 30 days money-back guarantee.
Notable Features Of FastComet:
Why To With FastComet Web Hosting?
FastComet is an affordable web hosting, a perfect option for newcomers who want to build and run their site.
It can handle up to 25,000 with a data capacity of up to 15GB.
You can also go with Fastcloud Plus in case your website is receiving huge traffic.
Click Here to grab a free lifetime domain with no special renewal price.
2. TMD Hosting (Cheapest & Affordable Hosting):
TMD Hosting has a strong customer base even though they are not well known like Bluehost.
It is well known for offering fully managed services for providing secure Hosting so that even a noob can handle its site without any extra negative thoughts about its security.
TMD comes with modern technology solutions and SSD storage that are added up for more security and speed, and it also has the integration of three different layers of caching(OPCache, Varnish, and APC) with SSDs to serve a faster page loading speed, Malware protection, and a lot more.
They also offer Cloud Linux Network (CLN) that guarantees safety from DDoS attacks.
TMD experts keep a constant check over your server to make a trouble-free experience.
Notable Features Of TMD Hosting:
Which Hosting Plan Of TMD Hosting Will Be Best For You?
TMD comes with three different plans, namely Starter, Business, and Enterprise).
TMD starter plan is a perfect pick for beginners who want to try their blogging career and have a tight budget. You can easily host one website with this awesome plan.
If you want to build an Online store, the TMB business or enterprise plan is best suited for all your needs.
It also offers a 60 days money-back guarantee so that if you aren't satisfied with their service, they will refund all your money.
Give a risk-free try to TMD hosting right away through this Special Link.
3. InterServer (Reliable & Affordable Bluehost Alternative)
InterServer Hosting comes with unique features even though you don't even hear this reliable web-hosting company's name.
It is loaded with high-end security features, shocking fast loading speed, Strong Uptime, a 30 days money-back guarantee, and a lot for their users.
I am sure the InterServer refund policy is eager for you to give it a risk-free try. Click Here and enjoy the stunning features of InterServer.
Notable Features Of InterServer:
Which Hosting Plan Of InterServer Hosting Will Be Best For You?
InterServer has only one plan(VPS) that is packed up with all the crucial resources, and you need to run a successful website(blog).
4. NameCheap (Cheap Bluehost Alternatives):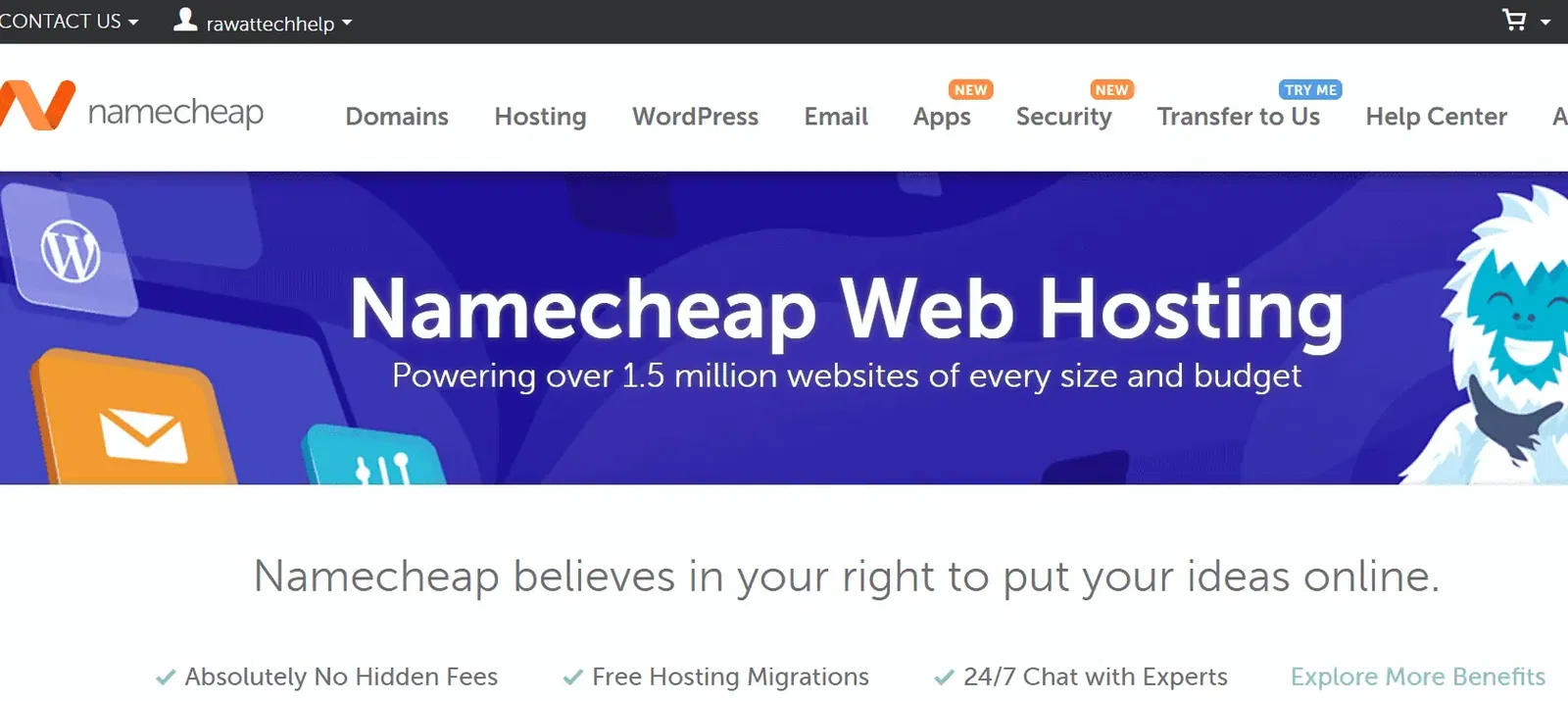 NameCheap is well-known as a domain registrar website. But due to this, it also provides a great web-hosting service.
Its web hosting comes with a good average page speed of 727ms.
NameCheap offers free SSLs for free, 99.83% uptime level, 24×7 live chat option, making it accessible to connect with the support team within a couple of minutes, free backups, and free migration within 15 minutes without letting your site down.
Notable Features Of NameCheap:
Which Hosting Plan Of NameCheap Hosting Will Be Best For You?
NameCheap has three different plans, namely Stellar, Stelar Plus, and Stellar Business.
If you plan to step into your blogging career, Namecheap Stellar plan is a perfect plan to host three websites.
In case you are getting a good amount of traffic on your blog/website, then NameCheap Stelar Plus and Stellar Business are enough to fulfill all your website needs.
5. InMotion (Cheap Managed WordPress Hosting):
It is a reliable and popular US-based web hosting company serving millions of websites all over the globe.
Inmotion guarantees 99.97% uptime, which is quite good at this pricing range.
Inmotin provides strong support by SSD drivers, making sure a faster loading time to hang on users on it, all-time and expert customer support, DDoS protection, Advanced Firewall Systems, high-level, etc.
Plus, it enables you with multiple options to contact, email, ticket system, direct phone contact, and even Skype.
Notable Featuring Of Inmotion:
Unlimited Bandwidth
Free Private SSL Certificate
Innovate Speed Technologies (SSD, CloudLinux, Optimum Cache, etc.)
Excellent Tech Support
90 Days Money-Back Guarantee
Free Domain For Lifetime
Free Daily Backups
Which Hosting Plan Of InMotion Hosting Will Be Best For You?
InMotion Hosting has three plans(Launch, Power, and Pro) for its customers.
If you are planning to start a new website, then InMotion Launch Plan is perfect for all your blog needs, enabling you with two websites.
In case you are committed to blogging, then InMotion is an excellent choice to go with their Pro or Power plan.
With Pro Plan, you can host many websites you want to host, and with Premium Plan, you will get the option to add six websites.
6. Hostgator (Cheapest Bluehost Alternative):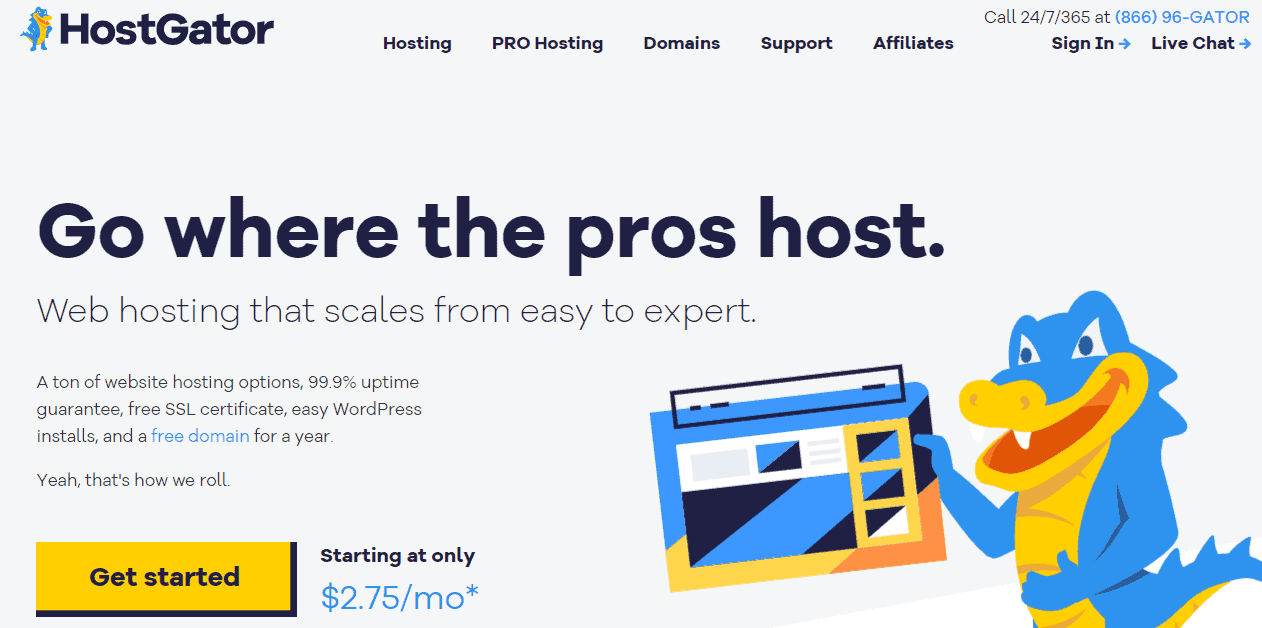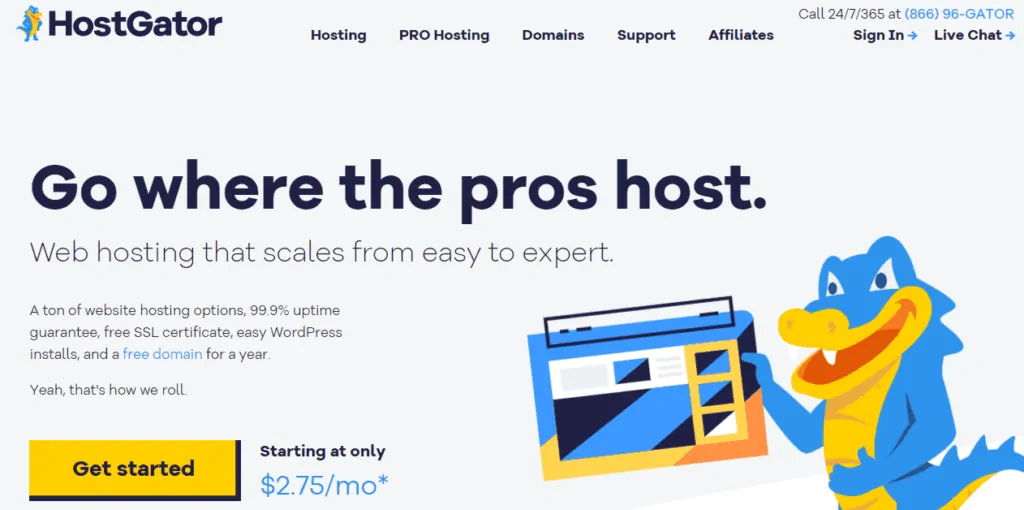 It is one of the most reliable and user friendly web hosting at a reasonable price.
HostGator comes with guaranteed 99.99% uptime, and you can check it out right away from your dashboard.
The best part is that somehow if you experience any downtime with Hostgator, you will get Month's money back in your account. Sounds Cool, Right!!
HostGator offers the latest cPanel Software, a 45 days money-back guarantee, free migration, high-end DDoS Protection, Firewalls, etc. Plus, you can also add add-on like the SiteLock security package, super call support system.
Notable Features Of HostGator:
Which Hosting Plan Of HostGator Will Be Best For you?
Hostager offers three different hosting plans for its users, namely Hatchling, Baby, and Business plan.
New to this blogging universe, my suggestion is to go with Hostgator Hitching Plan since it is cheaper than others, and you can easily connect one domain with this plan.
If your site is well-known and facing an outstanding amount of traffic, then Hostgator Baby or Business Plan will be the best choice for you.
7. WPX Hosting (Premium Bluehost Alternatives):
WPX Hosting has speed and fast technical support. It is a reliable and more stable web-hosting provider than others.
Having an excellent page loading speed proved to be a great user's Experience that's why WPX hosting ensured a smooth user experience.
WPX Hosting comes with many perks such as Free Enterprise-Level DDoS Protection, Spam Protection, Application Firewalls, High specification SSD servers, and high security to secure your website from internet crooks, etc.
The best part with WPX Hosting is that it does not require an extra charge of a penny for malware scanning and removal, whereas other providers do.
Moreover, WPX offers a Backup Manager that enables you to take your website's back up and make it more secure to another level.
It also provides superb customer service with incredible instant email support or chat replies.
Their expert support team is always there to help you out. Their customer support is quick and fast. Click on the video below to check it.
Notable Feature Of WPX Hosting:
Which Hosting Plan Of WPX Hosting Will Be Best For You?
This Hosting has three different plans, namely Business, Professional, and Elite, suitable for managing any amount of daily visitors.
If you want to start an online store, WPX Business Plan is the perfect pick you go with. It will cost you only around Monthonth to set up your online business.
You can go with a Professional or Elite plan if you are facing a huge amount of traffic on your website.
You will get WPX Professional Plan for $50 Monthonth and Elite Plan for just $100 per Month.
8. A2 Hosting (Suitable Bluehost Alternatives):
A2 hosting is one of the best Bluehost alternatives, but generally, most Bloggers are not aware of it.
It is speedy enough to give your users a smooth experience in surfing your website.
A2 web-hosting uses SSD(Solid-State Drive) that guarantees the fastest loading speed to manage your website even with massive visitors.
A2 offers free website migration without any extra charge, cPanel, Free SSL Certificate, Unlimited Storage, US-based rapid support, and many more cool features.
Plus, They offer great live chat support taking care of that you don't lose time and money due to any issue related to your website.
Notable Feature Of A2 Hosting:
Which Hosting Plan Of A2 Hosting Will Be Best For You?
A2 Hosting comes with three plans Lite, Swift, and Turbo.
If you want to switch to a Bluehost alternative or start a new blog, then A2 Hosting Lite Plan is a perfect choice to go with one website(Blog).
If you get huge traffic on your website, you can choose the Swift or Turbo plan which enables you to connect the unlimited domain and a lot of extra features.
9. DreamHost (Best Bluehost Alternatives):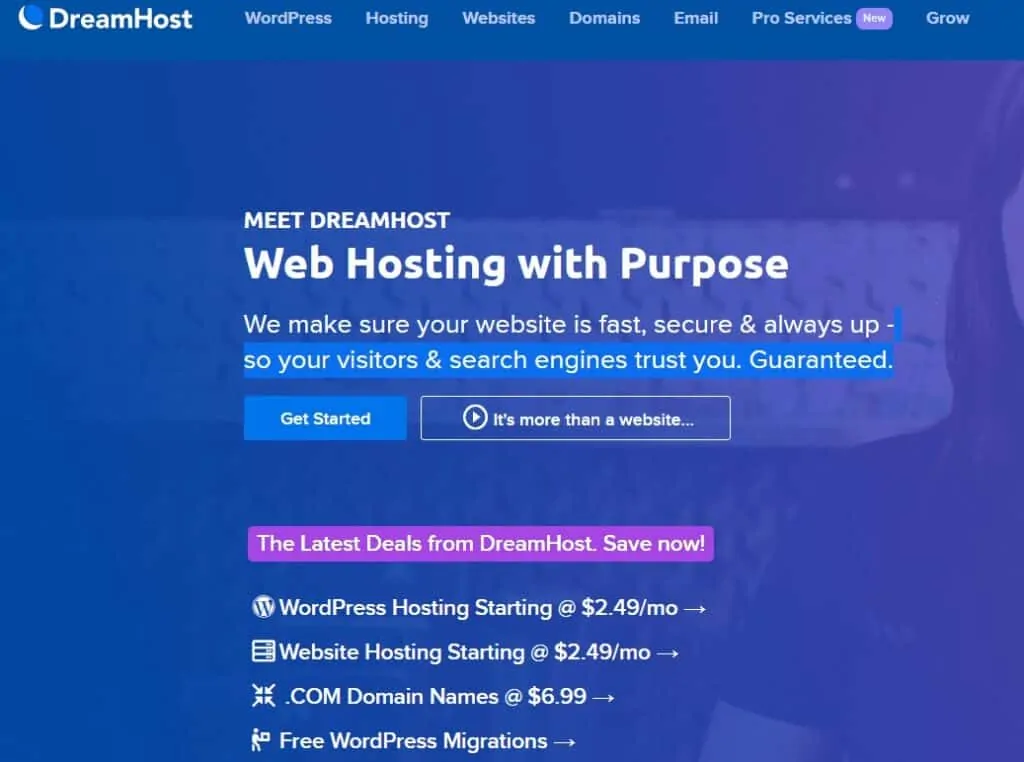 DreamHost is a self-owned and reliable Los Angeles web hosting provider.
It comes with a free setup, a free domain, support WP hosting, unlimited disk space, a custom web panel, a one-click WP installed, 3-month money-back guarantee, site builder, and many other cool benefits you are going to see in this DreamHost.
Notable Features Of DreamHost:
Which Hosting Plan Of DreamHost Hosting Will Be Best For You?
It is the best pick for someone looking to scale up from a shared server's limited resource to their dedicated server, i.e., an online store website owner with a large and growing customer base can go with DreamHost VPS Hosting.
Are you a beginner and want to learn blogging with WordPress without much money?
No worries, DreamHost also offers a Shared Hosting plan starting at just $2.49 Monthonth.
10. GreenGeeks (Faster, Eco-friendly, and Secure alternative to Bluehost):
GreenGeeks was founded in 2008 and has successfully and completed its 12 years in this segment with eco-friendly web hosting providers.
They are now hosting more than 60 000 websites(with data centers in Canada, U.S, and the Netherlands.)
GreenGeeks claims 100% customer satisfaction and 99% uptime.
Some additional perks with GreenGeeks are High-end Speed Technologies, Built-in Scalability, Advanced Security, Stable Hosting platforms, Expert 24/7 Customer Support, SSD Storage Arrays lot more.
GreenGeeks provides a 30 day money-back guarantee without asking any questions regarding their hosting service.
Notable Features Of GreenGeeks:
Which Hosting Plan Of GreenGeeks Hosting Will Be Best For You?
GreenGeek lite plan is an excellent choice for small blogs or websites whose owners are getting started and do not want to save their money on their website Hosting. You can get it at just $2.95 Monthonth.
The GreenGeeks Pro Plan is better for growing websites that require more resources and speed so that their website will not be stuck in an instant of time.
GreenGeeks Premium Plan is perfect for those who have big online business stores or a busy website. You can undoubtedly go with this plan since it comes with unlimited website support, unlimited web space, free premium SSL, etc.
Plus, Free Nightly BackUp, 4x Performance, LSCache Included, 300% Green Energy match, and many more.
They have over 20 years of Hosting Experience, handling 500k websites, and ten global data centers.
Nexcess is well-known for the security, speed, support, and scalability it offers for ECommerce websites.
Nexcess comes with PHP optimization and PHP7 support, 99.99% Uptime, Single-Click auto-scaling, PCL- certified for compliance, Premium SSL Certs, 24/7 monitoring and alert response, Proactive Patching, and Updates, and a lot more.
Notable Features Of Nexcess:
Which Hosting Plan Of Nexcess Hosting Will Be Best For You?
You can try Nexcess free with its 14-day Free Trials for their Managed WP and Managed ECommerce Hosting Plans.
Their Magento plan starts from $49 Monthonth, comes with features like 1 Click AutoInstall, Magento Association Platinum Partner, 1 Click AutoInstall, Free Site Migration, etc.
A Necessary WordPress plan starts from $19 Monthonth with perks like Automatic Scalability, Automatic Core WordPress Updates, Automatic Plugin Updates, and many more.
The WooCommerce plan offered by Nexcess starts from $19 Monthonth. It provides benefits such as end-to-end store management, traffic-based Auto-Scaling, Automatic Plugin Updated, Free Plant-Based Plugin Bundle, and many more.
Frequently Asked Question-Related Best BlueHost Alternatives?
Q. Which Host Is Better, Bluehost Or GoDaddy?
Bluehost and GoDaddy offer excellent high-end performance. But there is no doubt that Bluehost is quite better when we talk about value for money and support.
Still GoDaddy is dominant in website and domain registration as a one-stop solution for the users.
Q. Is BlueHost Good For Beginners?
Yes, BlueHost is affordable, and it comes with a 1-click WordPress installation so that any noob can also set up his/her WP website in just one click. Moreover, it's amazing 24/7 customer support where experts are ready to help you whenever you need any support regarding your website.
Q. Is JustHost And BlueHost, The Same Company?
No, JustHost and BlueHost match up with many pricing structures, services, and features, but there are many key differences.
For Example, JustHost provides a money-back guarantee, whereas BlueHost provides a refund within 30 days only.
Q. Who Is The CEO Of Bluehost?
Suhaib Zaheer is the CEO of BlueHost under the ownership of Endurance International Group.
Q. Why Is Bluehost So Cheap?
BlueHost utilizes shared Hosting, which means that your site will not have your server instead of sharing the resource with other website owners that is why the whole pricing is splitting over the different website holders.
Q. Why Is Bluehost Bad?
BlueHost is affordable Hosting, but it faces many CPanel down issues, bad gateways, or server errors while using BlueHost to host one of my micro niche websites.
Q. Do I Own My Domain Name With Bluehost?
Yes, you can get hosting and domain names to make it handy to control your website, and email, register a new domain, and transfer the domain, and domains right away from your BlueHost account.
Q. Can I Pay For Bluehost Monthly?
Alas, BlueHost does not provide any monthly payment juncture for its cheap managed WP hosting or shared hosting. However, you can still choose a month to month billing option with BlueHost.
Q. What Is The Difference Between Bluehost and WordPress?
The key difference between BlueHost and WordPress is that WP is a completely hosted CDM(content management system), and Bluehost is a web hosting provider.
Q. Does BlueHost Support WordPress?
Yes, Bluehost supports WordPress and is even recommended by WordPress due to its services and expertise.
BlueHost All Plans comes with one-click WordPress installation, so can you install WordPress Software on your finger.
Q. How Many Websites Can I Host On Bluehost?
You can host as many websites as you have on BlueHost with both of their Plus and Choice Plus Plan at just $4.04 Monthonth.
Q. Do You Prefer Extras Bluehost Package?
No, in my suggestion, there is no need to go with an extras package apart from Protection Package Extra+Bluehost's Privacy.
Q. Is WordPress Free With Bluehost?
Yes, Bluehost offers one-click WP installation for no extra charges. You can download it right away from Your Bluehost Account.
Wrapping Up: Best Bluehost Alternatives
Bluehost is one of the oldest monks in the hosting market proving it is a reliable hosting solution from 2003.
Bluehost comes with an affordable budget making it a perfect choice for beginners but coinciding that I have faced issues with their server a lot more time making BlueHost not go with the option.
Hope you like my collection over Bluehost Alternatives. I have covered all the best names that deserved to be on the list.
However, if you still think I miss some important name then leave a message in the communication section of this blog post.
FREE DOWNLOAD
Ready To Make Money Affiliate Marketing
Learn These 7 Pillars of Affiliate Marketing I've Used To Create A Hyper-Profitable Affiliate Business From Scratch So You Can Make Your First Commission Online…