Are you wondering how to do affiliate marketing with Pinterest?
Keep reading, and in the end, you'll learn, you can make money on Pinterest without a blog.
Pinterest is a search engine like Google, Yahoo, Bing, etc., that allows users to search for and find images, videos, and other media types on the web.
It is a visual image search engine more than a social media network.
It is a search engine like Google Images, but it is better than that. With Pinterest, you can publish images and infographics called pins.
In this post, we'll discuss Pinterest and how to use Pinterest for affiliate marketing?
We'll also share some of our strategies to grow on Pinterest.
What is Pinterest?
Pinterest is a visual search engine like Google Image that allows users to post and share images organized into user-created boards and collections and share their ideas, from recipes to wedding photos to home décor.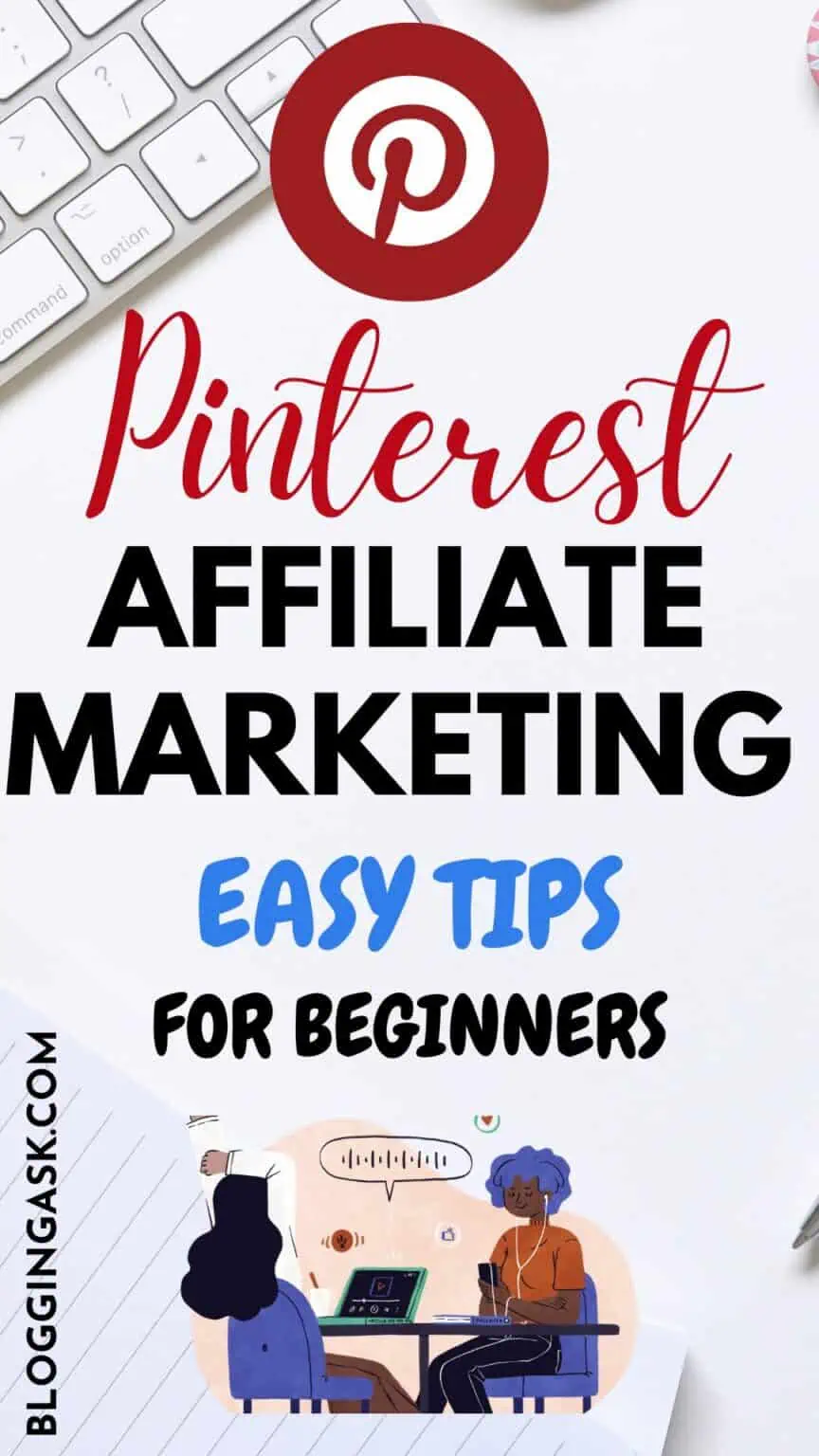 Ben Silbermann created Pinterest in January 2010.
Pinterest is a social media platform where users can share ideas and images with titles, short descriptions, and URLs (called pins) and create boards for different topics.
Pinterest is the perfect place to build a following of people who will buy your products.
Pinterest is the best social network for affiliate marketing. With direct affiliate links, you can make more money than any other social network.
Affiliate marketers can use Pinterest to drive traffic for their affiliate products and make more money with these direct affiliate link-sharing options.
How to do affiliate marketing with Pinterest?
Affiliate Marketing on Pinterest is one of the most popular ways of making money at this time. You can use Pinterest to promote your product or promote others.
There's an incredible opportunity for affiliate marketers to make money on Pinterest.
Here's the step-by-step process to follow if you are wondering how to start affiliate marketing on Pinterest
Step 1. Sign Up as an Affiliate for a Product or Program
Signing up for an affiliate program or product is the first thing you have to do to make money in affiliate marketing.
Think about what products you already use to recommend to your target audience.
If you're in B2B, you could promote business courses and software, etc., and you can join Partner Stack and Shareasale affiliate programs.
If your business is B2C, you can consider becoming an Amazon affiliate.
Step 2. Create Content on Your Website to Promote Your Affiliate Links
You need to create content to make more money from your marketing. It can be anything in the form of a blog post, landing page, or YouTube Video.
Now that you've created the content to promote your product, it's time to create eye-catching pins for your Pinterest account and promote the product you want.
Step 3. Create Multiple Pins for Each Piece of Content
After you've posted the blog post on your blog or website, you can create multiple Pinterest images for the blog post and post them on the internet board.
If you want to generate traffic from Pinterest, you can use multiple pins to promote the same post. There is no limit on how many pins you can create for the same blog post as long as they are not duplicated.
Here are some example pins on Blogging Ask, created to promote one blog post.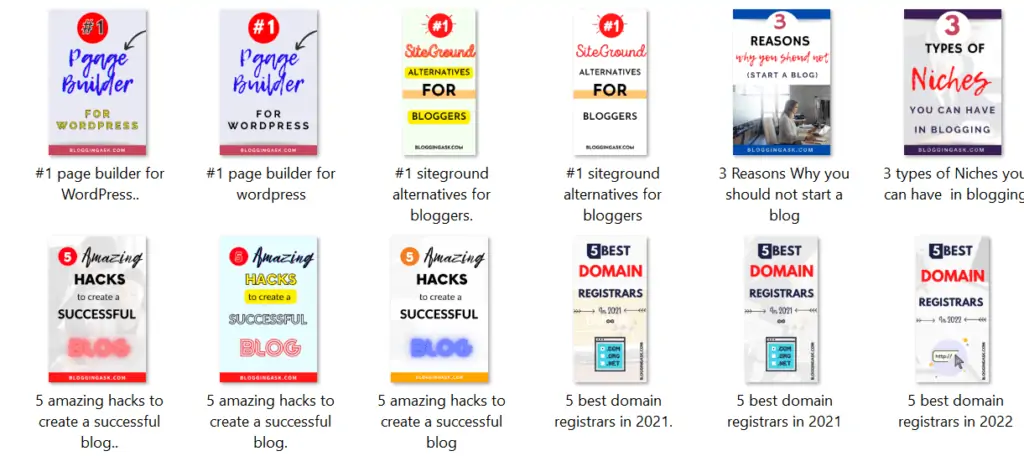 Step 4. Stay Consistent on Pinterest
Passive income strategies can take a long time to implement. However, they get bigger with time.
You have to stay consistent on Pinterest by regularly pinning fresh new Pinterest pin images for your blog posts or videos.
This will help drive traffic to your blog posts, landing pages, or videos that contain your affiliate links.
Don't feel like you have to create a dozen pins for each post at once. It is possible to start with a few and add more as you go along.
This is better for the health of your account and keeping your account consistent. 
Step 5. Analyze Results and Take Informed Action
You can use the Pinterest Analytics tool to see how your top pins are performing, where your audience is from, and much more.
It can be a great tool to use when trying to figure out what is working and what isn't.
Identify the pins that are performing the best, then create more of them. Then you can create more versions of that pin.
You can use Pinterest Analytics to discover which pieces of content are driving traffic and revenue for you, whether you're promoting affiliate links or your products.
Make money on Pinterest without a blog with Affiliate Marketing.
Pinterest is an excellent tool for getting traffic to your website. It's easy to set up and can be used for personal and business sites.
You can use pins that link directly to your products, but make sure they fit in with your overall strategy. We don't recommend this tactic most of the time, but it works well for some Pinners.
If you add value to your boards, users will appreciate it. You can either create boards for different styles or share content with other people that you like.
Pin your freebies on Pinterest to drive traffic to your website, email list, and affiliate links. Make several different freebies and create a dozen pins for each.
It's important to remember that while a blog isn't required for Pinterest affiliate marketing, it is an effective strategy.
So after you've got your feet wet without a blog, consider using blog content to generate passive income from affiliate marketing.
Why Do Affiliate Marketing With Pinterest?
It's an excellent platform for affiliate marketers to drive organic traffic to their sites and increase sales. It can also help you boost your organic ranking on Google.
Pinterest allows us to use infographics and images that can easily be created by any graphic designing tool such as Canva, so content creation on Pinterest is effortless and time-saving.
Pinterest has more than 479 million active visitors, so there are many opportunities to make money on Pinterest.
Can we use Amazon affiliate links on Pinterest?
Many people have this question in mind, so you'll find this answer in this article.
Yes, you can use the Amazon Affiliate link on Pinterest, but you must follow Amazon Associate Guidelines.
Earlier, Pinterest removed the option of direct linking because many people were scamming.
Still, Pinterest supports direct affiliate links, which is an excellent opportunity for you to make money on Pinterest. 
If you want to promote Amazon affiliates on Pinterest, then keep in mind that Amazon does not allow you to use their product images.
How to use Pinterest for affiliate marketing?| How to do affiliate marketing on Pinterest?
Pinterest is a great platform to drive traffic for your affiliate website and generate affiliate sales consistently.
Beginners often share direct affiliate links on Pinterest and try to generate sales. However, this is not the right way to do it.
They can make some sales, but this method does not convert customers every time.
So it is better to build a website, write a review of the product you want to promote or write a list of products then promote them on Pinterest. 
You can follow the below steps if you are starting out with Pinterest for the first time:
How to grow on Pinterest?
You can follow these tips and strategies to get traffic from Pinterest and grow your business.
Pinterest is a visual search engine, and if you want to grow on Pinterest, you need to create high-quality and informative images that can solve users' queries.
Pinterest allows you to create different boards for different categories of your business or blog, so you use this future to create boards for all categories of your blog.
Consistency is the main rule of any social media platform, and if you don't post every day, anything won't work.
And Pinterest is more than a social media platform, so to get more traffic from Pinterest, you have to create content consistently. 
Follow trends
If you follow trending topics and create content around them, Pinterest will boost your pins which will result in massive traffic to your site.
Don't forget to use the # hashtag.
If you want to get more traffic or your pins to reach a broader audience, don't forget to use the hashtag in the description of your pin.
How to Automate Your Pinterest Affiliate Marketing?
If you want to automate your Pinterest Affiliate Marketing, you need to automate your pins.
There are two ways you can do Pinterest Affiliate Marketing on automation.
1. You can use Pinterest Native Scheduler to schedule your Pins for a maximum of 2 weeks.
2. You can use a Social Media scheduler such as Tailwind and Hoot Suit. 
Use this affiliate marketing strategy to keep consistent with your Pinterest marketing, so you're pinning every day, even when you can't log in.
Automation is a great way to save time, but you'll want to ensure that you're still doing the activities inside the Pinterest app or website. Automation is never a replacement for activities inside of the app.
Be sure to log into your account every week, save other people's pins, comment on them, or make some arrangements in your boards.
Your in-app activity sends a solid message to Pinterest's algorithm that you're an active user, and it gives you a boost.
Why Pinterest Is Better Than Social Media for Passive Income?
A good affiliate marketing strategy should always be about long-term results.
Make sure you set up something that will work for you in the future—so you don't have to hustle every day.
If you want to know how to make money on Pinterest with affiliate marketing, you first need to understand how Pinterest works.
The biggest mistake business owners make is that they think Pinterest is a social media site, but it is not, instead, it is a visual search engine.
If you start thinking about it more like a Visual Search Engine and you are going to focus more on SEO optimization, that's really what Pinterest Algorithm wants you to do.
Pinterest is a great way to build an affiliate revenue stream because pins have a long life.
While the life of a tweet is in minutes or hours, the life of a pin can be in months or even years. That's why you must consider Pinterest as your marketing strategy. 
When you optimize your pins for SEO, they can continue to show up in search results for that target keyword for years to come. A pin you created last year can earn money today.
Conclusion of how to use Pinterest for affiliate marketing
Pinterest is a Free, time-saving, helpful, and easy way for getting organic and Targeted traffic to your blog or website.
Pinterest is useful for bloggers, Affiliate Marketers, website owners, and marketers who want to get more tarted traffic to their site and generate more revenue.
The best thing about Pinterest is it also helps you boost your organic traffic in Google.
Please leave them in the comments section below if you have any questions.
FREE DOWNLOAD
Ready To Make Money Affiliate Marketing
Learn These 7 Pillars of Affiliate Marketing I've Used To Create A Hyper-Profitable Affiliate Business From Scratch So You Can Make Your First Commission Online…