Howdy Blogger!
Welcome, all of you to Blogging Ask.
As you know I have started a Blogger's Interview Series so that Bloggers who are doing great can share their experience and strategies with us related to Blogging, Affiliate Marketing, and SEO, etc.
This is the second interview with Ravi Dixit a full-time Blogger from New Delhi and founder of StayMeOnline. If you haven't read the first-ever interview on Blogging Ask, then make sure to read an amazing interview with Mangesh Kumar Bhardwaj.
I am delighted to invited Ravi on my blog and share his experience with us.
Ravi is an awesome blogger and human being who has great knowledge of Blogging and Affiliate Marketing. I love to read his blogs on StayMeOnline.
Apart from this Ravi helps newbies a lot that is really a great initiative by him.
Once I had the opportunity to meet him and he shared so much of his blogging and affiliate marketing experience and strategies with me.
If you really want to learn Blogging and affiliate marketing you can read his blogs on StayMeOnline and follow his tips and strategies.
Are you excited folks?
You must be, so why to waste your precious time.
Let's get started.
Benefits of reading the interview with Ravi Dixit
You will learn is blogging still worth
How does it feel being a full-time blogger and OWN BOSS.
How full-time bloggers manage their time. And how actually Ravi manages his full-time blogger career.
Affiliate Marketing vs Adsense
How to get success in Affiliate Marketing.
Hello, Ravi welcome to Blogging Ask, Can You introduce yourself to our readers?
Hello, Amazing People!
Myself Ravi Dixit, founder of StayMeOnline. I am 22 years young (lol I don't consider myself old) blogger from New Delhi, India.
I started my blogging journey in May 2016 when I bought my first ever domain on 15th May 2016 which was StayMeOnline.com.
I still remember the exact date because that was the day when my life was going to change completely.
Because I was taking my first step towards making my dream life come true.
I am from a middle-class family where no one can imagine earning money in dollars just by sitting at home.
This was totally unbelievable for my family and relatives, even my father once said that "if this is possible to make money just by sitting at home, Everyone does the same and no one will go out for 12 or 10 hours to earn their living".
But that doesn't mean, my father is not supportive. He supports me always in blogging.
What did get you into blogging? Who was your inspiration?
Well, this is a great question, I won't say that money was the main reason I came into blogging for…
It was my dream since childhood, I never liked working in an office job where we need to go at 9 am and come back home at 6 pm.
This is what I hate a lot, my life sucks when I was going daily to my office job and hardly got 2-3 hours in the evening to spend time with family and friends.
So, my dream always was to become my own boss. I always wanted to work at any time when I wanted, and from anywhere.
This is what attracted me to blogging…
Blogging gives me the freedom to work at any time and from anywhere, there is no fixed schedule of working hours. I can work 2 hours a day and even 12 hours a day. It totally depends on me and the need for the work.
And an office job didn't let me live my life in my own way. Like I had worked almost 3 years in a company and I am a travel-loving person.
So, before planning any trip, I had to ask my manager to provide me leaves and after requesting I hardly get 2 or 3 days to leave.
Which wasn't suitable for my trips, so I always had to sacrifice there.
But in blogging, I can work even when I am on any trip with my laptop.
FREEDOM is the only reason that attracts me to blogging.
And my inspiration was Harsh Agarwal as many bloggers have the same inspiration.
ShoutMeLoud helps me a lot in learning about blogging and affiliate marketing.
Ravi, what are the major challenges you experienced at the beginning of your blogging journey?
There was one major challenge that I faced that was the thinking of society and my relatives.
Some years ago, making money online was considered as a complete SCAM. Some still think the same.
I used to use my phone and laptop a lot and surf the internet. My relatives used to comment "He is wasting his time", "Entire day he used to play games on phone and always watch videos, etc"
But my family is too supportive, my father never stopped me what I was doing those days. Actually, I was not playing the game nor watching funny videos, It was my learning period.
And when I decided to quit my job, It was hard to explain to people why I quit the job and why I am not working anywhere.
Seeing a 22-year-old guy jobless, people can't stop themselves commenting "What will be his future blah blah…"
But now, they are asking me how I am making money online…
How do you monetize your blog? What are the main sources?
In the initial days of my blog, I used Google AdSense to make money from blogging but this didn't work for me.
So, after some months from starting StayMeOnline, I started focusing on Affiliate marketing which is the best ever method to make money from blogging.
Basically, Affiliate marketing and Sponsorship are the main sources of my income.
But my main focus is on affiliate marketing.
Because in affiliate marketing, you can start making money from the first week of your blog, it doesn't matter how many page views you are getting each day to your blog.
You can earn even if you have 10 visitors daily on your blog.
So now, I stopped using AdSense and affiliate marketing is my main source of income.
Being a full-time blogger how do you feel? I mean you are your own boss.
This is what I am loving… The best decision of my blog to come in full-time blogging.
When I started my blog back in 2016, I was working for a web services company that provides web related services to their foreign clients.
In July 2019, I quit my job and took up blogging full-time.
Now I can say, this is the best ever decision I made in my life.
Being a full-time blogger, I don't have any boss over me who can give orders to me and I have to work according to him.
I am my own boss… I can spend more time with my family and friends which I couldn't when I was working in an office job.
Now I can go on trips as long as I want and work also, I can do both things together.
Don't need to ask for leaves from my boss, which was the toughest thing for me.
Overall, full-time blogging life is giving me what I wanted, FREEDOM.
What are the best blogging tools that you can recommend to Blogging Ask readers?
I am using lots of tools which makes it easy for me to manage my blogs.
Calmy: Calmy is an amazing writing tool that helps me to write without being distracted.
SEMrush: Best SEO tool which I have been using for 3 years and still couldn't find any other better than it so far.
SEMrush helps me to find profitable keywords that rank easily and also helps me to spy on my competitors.
Trello: I recently hired some content writers and Trello is an amazing tool for team management.
Grammarly: I can't miss taking the name of Grammarly when it comes to the tools I am using for blogging. My writing skill was not good when I started my blog but Grammarly is the tool that makes it perfect.
Loom: Loom is a free screen recorder tool that I am using from years back to create screen recording videos.
Rebrandly: Recently started using this awesome tool that helps me to make long URLs short using my own domain. It helps in branding as well as in remembering the long URLs.
Canva: I think this is the most common tool that every blogger uses to create images for their blog.
KineMaster: It is a video editing app for android, I don't have much knowledge of video editing. This is a simple to use video editor that makes video editing easy for me.
There are many other tools that I am using to manage my blogs and being more productive, you can find all those tools in this list of blogging tools
I am not a full-time blogger. Can you describe your daily schedule? How many hours do you work on your blog?
Well, Taking step-in into full-time blogging is one of the best decisions I've made.
When I was working in an office job, I was not able to work more than 3 hours a day on my blog.
On only Sundays, I was able to focus completely on blogging because of the holiday from the office job.
So, I made up my mind and quit the job to come into blogging as a full-time career.
I don't have a fixed schedule for blogging yet but working on this to get one.
But normally, I try to work at least 8 hours daily on my blogs.
Sometimes, it increases to 12 to 16 hours a day because of the workload. Or, when I plan something new for my blog.
But 8 hours a day is fixed as a daily routine for blogging.
Social media and promotion aren't included in these hours, it is set only for blogging related tasks like writing new content, updating old content, creating images, recording videos, working on research, etc.
Soon I am planning to make a daily routine and assign each task its time period.
Can you recommend some of your favorite books to our readers?
Honestly, I am very lazy when it comes to reading books.
I have purchased many books and decided to read them but didn't get time to read them so far.
However, I am working on it to get my mindset for reading all those books…
Become A Brand(by Sorav Jain): This is the book I have read this year, this is all about personal branding and growing your brand on social media. How can you grow your brand on Social media?
I highly recommend reading it to get success on social media…
I have these books to read but didn't read them so far:
Rich Dad Poor Dad by Robert Kiyosaki
Getting Things Done by David Allen
Think & Grow Rich by Napoleon Hill
Dear Stranger, I Know How You Feel by Ashish Bagrecha
The Magic Of Thinking Big by David J. Schwartz
What was the main reason behind StayMeOnline.com? And how many blogs do you run?
The reason behind StayMeOnline was very interesting…
I used to surf the internet a lot before starting my blog, people always say that you are always online…
So, the name StayMeOnline came from there… If you read it separately you will know: Stay Me Online
It is asking others to let me stay online….
I have 4 blogs including StayMeOnline and one domain which I need to starting working on.
However, not all blogs are generating money for me. Some of them are micro-niche blogs and one is an event blog.
Have you ever used Google Adsense for monetizing your blog? If yes can you share it's potential in terms of making money?
Yes, I use Google AdSense on my event blogs that generate huge traffic on event days.
Google AdSense really works on event blogs, I have made a good amount from events blogs through AdSense.
For me, Google Adsense is good for the websites that generate huge traffic and yes, earning also depends on the region of the traffic, where they are coming from…
Which is best Adsense or Affiliates Marketing?
Affiliate marketing for sure!
Affiliate marketing is the best method to make money from blogging. I stopped using Google Adsense for my blog 2 years ago and affiliate marketing is the main source of my income.
You need to have huge traffic to earn some good amount of income from Google Adsense. But this doesn't apply in Affiliate marketing, you can start earning even if you get a few page views daily.
Can you share some of your success tips for affiliate marketing?
Affiliate marketing is the act where you promote others' products and get a commission on very successful sales made using your link.
Unlike in Google Adsense, you don't need to have huge traffic on your blog to earn a good amount. In Affiliate marketing, you can earn even if 10 people are visiting your blog and reading your post.
Here are the tips that you should follow to get success in affiliate marketing:
Choosing the Right Product: You must select the right product that has demand in the market and people are searching for that. A product with low demand will not help you to make money.
Learn about the product you are promoting: You should have enough knowledge about the product you are going to promote. Or, you should have used the product personally…
Writing quality content about the product you are promoting: For this, you should have knowledge about the product or you should use that personally before writing about that.
Promoting To Right Audience: Try to build a community around your blog of the people who are interested in your niche. Promoting products to the audience who are already interested in the same or have need of the product you are promoting can generate lots of sales for you.
Invest In Learning: Affiliate marketing is not some steps formula that you can apply and make money. Invest in your learning, be it by course, videos, consultancy, ebooks or anything. Keep learning and apply those strategies.
Which is the best WordPress hosting for newbies in terms of cost?
The only name that I recommend strongly whenever someone asks me about the best web hosting…
SiteGround… It is the best WordPress web hosting in terms of money and the service it provides at an affordable price.
I was using DigitalOcean's unmanaged servers to host all my WordPress blogs. As it is unmanaged, I had to manage all the technical stuff through my own hand.
No existence of support, so I had to fix all the issues or hire someone to fix that for me.
But after migrating to SiteGround, I am very happy because it makes all the technical stuff like taking backups, SSL, Emails etc easy with the control panel, now it all became the game of some clicks.
And hands down for SiteGround's support system, They have a team of WordPress experts which are always ready to resolve your WordPress blog's issues.
Is blogging still worth it? As you know people prefer to watch videos over reading text content?
Yes, Era is changing and people prefer watching videos and listening to podcasts more than reading articles.
Because it allows multitasking, they can do multiple tasks when consuming video and audio form of content but this is not in articles.
But it doesn't mean that blogging is going to die.
Blogging is still worth it but yes it is very competitive now compare than it used to be back in 2008. There were few people in blogging but now everyone is coming to blogging as the career option.
That is good! People started believing in making money online…
It is a myth that blogging is going to be dead, I think it is because of seeing Blogging down in the Google trends graph.
Google trends data is based on Google search database, if a word search is declining then Google trends will show the low interest of that.

But it means, people stopped searching "blogging" words in Google because they know the meaning of blogging compare than earlier days when people were unaware of the blogging.
Have you ever made any big mistakes in blogging? If yes, what was that?
I have made many mistakes…
I don't take it as a mistake, rather it always helps me to learn something new…
And I prefer mistakes as the sources to learn new things.
I made a mistake at the beginning of my blogging journey. As you know, Backlinks used to be the most important factor in rankings.
It is still an important factor, but there are other 200+ factors also…
I was not getting traffic on my blog in the starting months, so I searched for the solution and techniques I can use to get more traffic.
I found the most common answer which was "build backlinks".
In those back days, I was not aware of SEO and other things as I am now… So, I saw a gig on Fiverr…
The guy was asking for 5$ and he will create 5k backlinks for my domain.
I purchased the gig and waited for the delivery day, He had created 9k backlinks. 4k was the bonus because I was the new customer (lol).
I was totally unaware of this mistake at that time, but as time goes… I saw all the backlinks he created for my blog are from spammy, low-quality websites.
But when I realized this mistake, I found all the toxic domain backlinks using the SEMrush tool and disavowed them using the Google disavow tool.
But this mistake affected my blog's ranking and domain authority score a lot.
So, this is the biggest mistake that I made in my blogging journey so far.
Can you give some blogging tips to newbies who have just started?
I have seen newbies who are coming into blogging just by seeing others earning reports.
They think that they can make the same amount just by starting a blog and writing some content. BOOM, $XXXXXX credited in their account.
But this is not easy as it looks like…
They are seeing the earning report which is the result of that blogger's or affiliate marketer's years of hard work, hundreds of sleepless nights and lots of ups and downs.
After doing all the hard struggles, now they are able to make that much $$$.
They start blogging/affiliate marketing just after seeing the income reports and work for some months when they see no money.
They quit blogging…
I am not saying they can't make that much, They surely can…
But you should not forget all the hard work that you will have to go through to earn the same amount.
Blogging is not an overnight success formula… You have to keep patience…
So, do not run for money…(I know it is important) rather provide value through your content.
Once people start liking your content and your content starts helping them in their life… You will start seeing the same $XXXXXX in your amount.
Even more than that…
Blogging is all about sharing your knowledge to others, sharing the knowledge you are expert in…
Money is the second thing which comes after work.
Last but not least question. How much do you make from blogging? If you are comfortable it will motivate newbies
Well, I am not very comfortable in sharing my earnings. That's why I don't post income reports on my blog.
But I won't say that I am making huge money from blogging.
But yes, I am making 5x from the salary that I was getting in my office job.
Or, in another form, you can say that I am making my monthly salary which I was getting in the office job in one week from blogging.
I hope this will give you an idea about my income from blogging…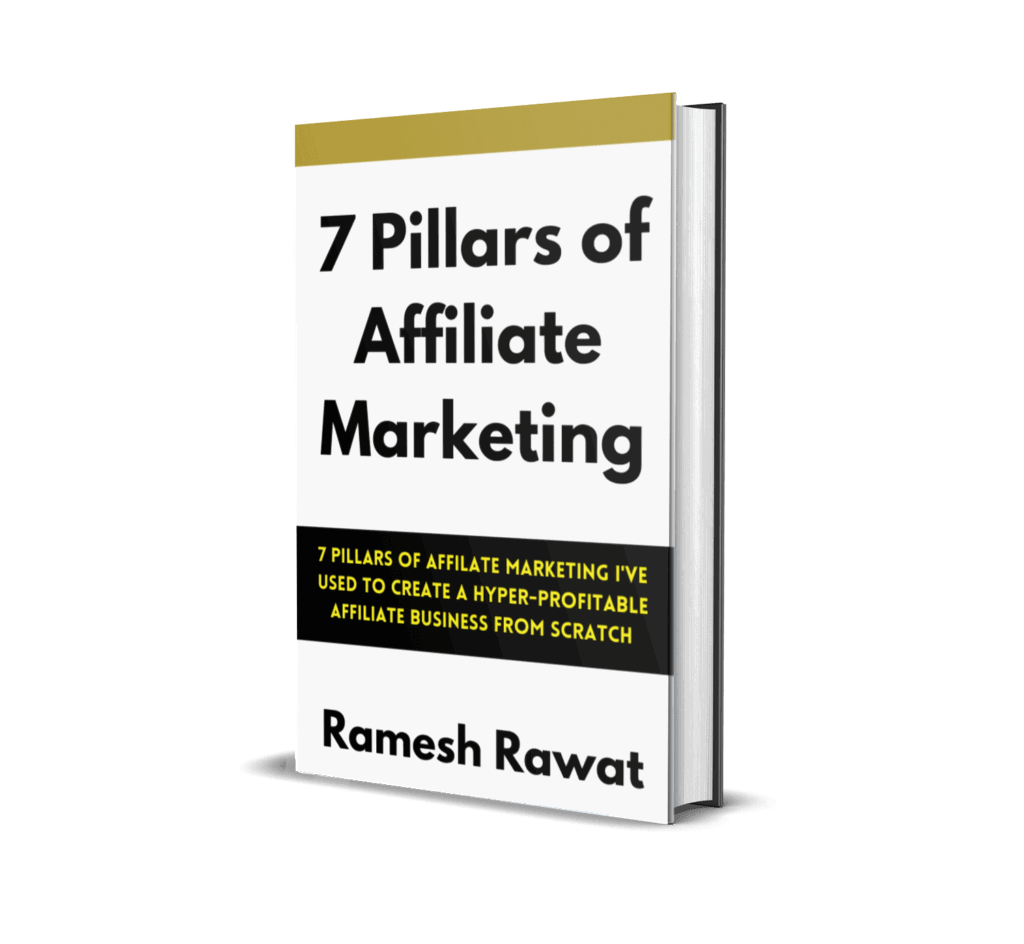 FREE DOWNLOAD
Ready To Make Money Affiliate Marketing
Learn These 7 Pillars of Affiliate Marketing I've Used To Create A Hyper-Profitable Affiliate Business From Scratch So You Can Make Your First Commission Online…