WordPress Theme markets are flooded with choices, and users are spoiled for choice. If you choose the wrong theme, you'll end up wasting money.
In this article, we will present you with the Kadence theme review. You can buy this theme and use it without regretting it.
Let's talk about Kadence WP.
Kadence Theme Summary
---
The Kadence Theme is the #1 WordPress theme for 2022. The theme comes in free and pro versions and offers great ease of use and features for building any website.
Ben Ritner, the owner of Kadence WP, has been very active in the WordPress space for over a decade and created the Kadence Theme.
This theme is built with lightweight, SEO-friendly code, so your website will load very quickly and rank highly in Google searches.
Furthermore, the theme integrates seamlessly with other page builders such as Elementor and offers WooCommerce features to allow you to build a customizable any kind of eCommerce store.
To get the fastest speeds, you should ditch third-party page builders and use Kadence's Gutenberg extension plugin, Kadence Blocks.
When you add the Kadence Blocks plugin, you'll get a page-builder-like experience within Gutenberg, WordPress's built-in editor. The Kadence Bundle (previously known as Kadence Membership) includes both Kadence Theme Pro and Kadence Blocks Pro.
Speed
Much More faster than Astra and GeneratePress.
Ease of Use
Easy-to-use customizer interface for beginners.
Features
It is equipped with various features to provide you with the best value for your money.
Blocks
There is a dedicated block plugin that provides features similar to those found in a page builder.
Pricing
You can choose from a variety of pricing bundles regardless of your budget.
Support
A very active Facebook community and excellent customer service.
Overall Rating:
4.8 / 5
15% DISCOUNT CODE: wireframe
Starts at $59/YEAR
The Kadence WP development agency is one of the most well-known WordPress development companies.
The company offers a wide range of WordPress products, including e-commerce tools, starter templates, and the Kadence theme.
Anyone new to WordPress should consider it because it offers a full suite of website-building tools.
One of the best things about Kadence is that you can create an entire website with just the free version.
They offer handy add-on bundles that you can add if you wish or integrate with third-party plugins if you want to upgrade.
We'll take a deep dive into the Kadence Theme in this comprehensive Kadence theme review.
Kadence Products and Addons
Kadence WP offers so many features that it is impossible to list them all in this review. To help you build a WordPress website, here are some of the most important products they offer:
Kadence Blocks: This is Kadence WP's Gutenberg block-based page-building tool.
This web builder is user-friendly and allows you to create pixel-perfect web pages.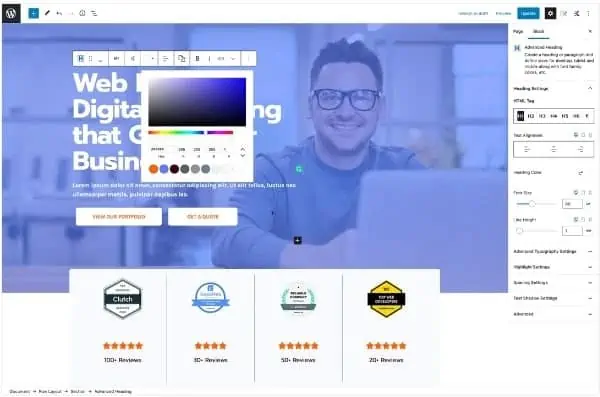 Shop Kit: This powerful WooCommerce plugin offers 15 modules for customizing product pages, creating galleries, and managing variants.
Kadence Cloud: This unique feature allows you to create your own library of design assets.
If you use the Kadence theme, you can reuse these assets on any of your WordPress websites.
Kadence Conversions: It allows you to create popups, sale banners, and slide-ins without writing any code. This tool is excellent for connecting with your audience and generating leads.
There are many other features that help you build a fully functional, modern, and unique website. For example:
simple social sharing tools and
WooCommerce email template designer.
You can purchase the Kadence Blocks Pro, Theme Pro, and Shop Kit add-ons with another theme if you want to use them separately.
You don't have to use Kadence WP exclusively to take advantage of its powerful features.
But if you wish to use the Kadence ecosystem, you must go for their Full Bundle or Lifetime Full Bundle.
One of its most successful products is the Kadence WP WordPress theme. All Kadence WP products work seamlessly with it.
Additionally, it is compatible with a number of third-party WordPress plugins and tools.
Here are some of the most important features of the Kadence Theme:
Basically, Kadence WP offers everything you need to build a website of any type. Additionally, Kadence Theme supports many third-party plugins. This includes:
WooCommerce
LearnDash
LifterLMS
bbPress
The Events Calendar
Third-Party Plugin Support
If you're familiar with any of these tools, you don't have to make any changes. Moreover, it offers powerful features for specific website types, such as learning portals and event websites.
Let's take a look at a Kadence Theme speed test on Blogging Ask in Google PageSpeed Insights:
There are a lot of WordPress themes that will make you feel just like this.
Kadence is highly optimized for performance. The theme is only 42 KB in size, making it very lightweight. CSS preloading is also used as a performance optimization technique.
It gets nearly perfect performance scores, resulting in websites that are fast, user-friendly, and SEO-friendly.
Kadence Theme is also SEO-friendly and built according to the best industry practices. It uses SEO-friendly markup and schema where necessary for easier indexing by search engines.
The best thing about Kadence WP is that you can customize Kadence in various ways. Thus, it is suitable for WordPress users of different levels of experience. Furthermore, you can select a method that fits your preference, time, and level of effort.
With pre-designed blocks, you can quickly and easily create professional designs.
Kadence Theme also offers a variety of pre-built layout options. You can customize these important sections of your web page using header and footer builders.
Kadence also supports many top page builders for pixel-perfect web design.
You can also customize how the theme looks and feels using the theme settings:
Colour options
Global colour palette
Global typography
Global button settings
The Kadence Theme is as easy to use and install as any other WordPress theme.
When you use some of the Kadence WP bundles and add-ons, it can become more complicated. Get familiar with the options available in the theme and customizer.
First, let's take a closer look at those features that make the free version of the Kadence theme so popular.
| | | |
| --- | --- | --- |
| Key Features | Kadence Free | Kadence Pro |
| Price | FREE | $59/year |
| Usage | Unlimited | Unlimited |
| Starter Templates | ✅ | ✅ |
| Page Builder Compatibility | ✅ | ✅ |
| Colour Palette | ✅ | ✅ |
| Fonts & Typography | ✅ | ✅ |
| Header & Footer Builder | ✅ | ✅ |
| Post & Page Layouts | ✅ | ✅ |
| Header Addons | ❌ | ✅ |
| Hooked Elements | ❌ | ✅ |
| WooCommerce Addons | ❌ | ✅ |
| Header/Footer Scripts | ❌ | ✅ |
| Ultimate Menu | ❌ | ✅ |
| Custom Fonts | ❌ | ✅ |
| Infinite Scroll | ❌ | ✅ |
| Local Gravatar | ❌ | ✅ |
| Support | ❌ | ✅ |
| Link | Download | Get Here |
The Kadence Theme itself isn't hard to use. In order to get to grips with everything it has to offer, you will need some time and dedication.
It offers an extensive library of starter templates with demo content that includes over 40 fully designed starter templates.
Most are only available to Pro users, with only a few available for free.
Templates are available for various niches and types of websites. Templates are available for events, hospitality, travel, politics, blogging, e-commerce, learning, and membership sites.
Every template is responsive, customizable, and comes with the features it needs. For example, the Conference theme includes Google Maps, galleries, scheduling, and ticketing capabilities.
Almost all the designs are high-quality. A wide range of tastes can be met by the look and feel, which will usually be modern and professional.
Although the quality is excellent, many competitors offer a wider selection of templates.
The Kadence Theme and most of its other products and add-ons support WooCommerce.
With WooCommerce being the most popular WordPress e-commerce plugin, Kadence is a great choice if you want to create an online store.
With Kadence Theme, you get WooCommerce features such as a header cart. The Kadence builders and theme settings allow you to customize shop pages freely.
However, Kadence WP enhances WooCommerce, not just supports it. There are 15 WooCommerce modules built-in into the Kadence WP Shop Kit.
You can do the following with this:
Make advanced product galleries
Creating custom layouts for product pages
Make products more visually appealing by adding variation swatches and galleries
The ability to allow user reviews
Add disclaimers to store or product tabs
Make affiliate products available
To improve conversions, you can also streamline the checkout process. You can, for instance, create custom checkout fields and add conditional cart banners.
Kadence WP even offers a free WooCommerce email customizer. You can customize and brand your automated marketing emails with this feature.
Kadence WP Theme Examples: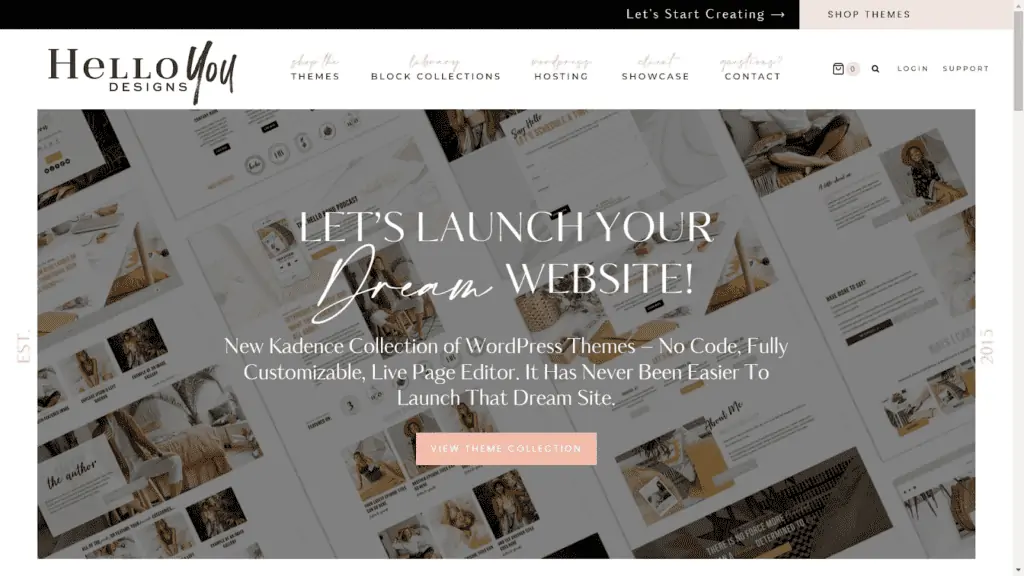 It offers four separate bundles for its WordPress products:
Kadence Free Forever:
Kadence Theme, Starter Templates, and pre-designed Kadence Blocks are actually free to use. This kit is a great choice when your budget is limited and you only need a few basic tools for web design.
Kadence Essential Bundle:
A number of advanced website-building tools are included in the Essentials and Full Bundles. Most of the free tools in the Essentials Plan are upgraded to premium versions.
Full Bundle:
You can unlock the full potential of Kadence WP with the Full bundle, which includes Kadence Cloud, Conversions, and WooCommerce Shop Kit.
Full Lifetime Bundle

You can also purchase a Lifetime bundle that includes all features of the Full bundle for a one-time fee. Compared to the Full bundle, it costs about 3x more, which makes it a good purchase for the long run.
All plans come with a 30-day money-back guarantee so that you can try Kadence themes without risk.
Support, Documentation, and Video Tutorials
Kadence WP offers excellent customer support. All customers, even free users, receive free email/ticket support. In contrast, paying customers receive premium support with priority handling of their tickets.
Users can interact with support technicians and other users in an official community forum.
The Kadence WP knowledge base contains articles and guides covering all of its individual products.
You can also find video tutorials covering WordPress, Kadence Theme, and other Kadence products.
Kadence Theme Alternatives
As you can see, the Kadence Theme is stuffed with every feature you need to create a fully functional website.
If you're still not convinced, here are three alternative WordPress themes you can try instead of Kadence.
With over 1.6 million users worldwide, GeneratePress is one of the most popular Kadence theme alternatives.
Price: Free. Pro version plans start from $59/year.
The Astra WordPress theme is ideal for portfolios, blogs, businesses, online shops, and more.
More than 1,000,000 websites use the free version, and it supports page builder WordPress plugins – so you can customize your entire website via the theme customizer.
Price: Free. Pro version plans start from $59/year.
Divi is more than just a theme; it's a complete design framework that lets you customize headers, footers, single post/page layouts, 404 error pages, and more.
Price: $89/year and $249 one-time fee.
Kadence WP Review Conclusion, Summary, and Verdict
Kadence WP offers many tools for developing and designing WordPress websites. With a range of pricing options and various features, anyone can find their suite of products useful.
The Kadence WP plugin is particularly useful for building these kinds of websites:
Membership sites
Marketplaces or online stores
Learning portals.
Blogs.
Kadence WP provides excellent starter templates for each of these types of websites.
In addition, they either provide built-in tools or allow third-party plugins to enhance the functionality of business websites.
However, Kadence WordPress can be quite expensive, especially when you choose the Lifetime bundle.
You definitely get what you pay for in terms of quality, performance, and features.
Don't hesitate to give it a try! If you enjoy this Kadence Theme Review then don't forget to share it with your friends.
FREE DOWNLOAD
Ready To Make Money Affiliate Marketing
Learn These 7 Pillars of Affiliate Marketing I've Used To Create A Hyper-Profitable Affiliate Business From Scratch So You Can Make Your First Commission Online…