LearnDash is one of the most popular WordPress LMS plugins. For all you LearnDash fans out there, there's good news. 
LearnDash has launched its new cloud-hosting solution to enhance your LMS experience. Take advantage of LearnDash's new hosting service and sell online courses like never before!
If you are looking to build an online education platform, LearnDash has some of the best LMS features.
LearnDash can help you build a single-course, single-instructor website or a marketplace for online courses. With the help of industry experts, LearnDash has created the plugin.
The LearnDash LMS is an absolute powerhouse, but it becomes even more powerful with new cloud hosting.
In today's post, we'll do a LearnDash cloud review, a new hosting service. Let's get started!
What is LearnDash?
LearnDash is a popular LMS plugin for WordPress. Since its launch in 2013, it has been the first WordPress LMS plugin.
Many organizations rely on LearnDash for their online courses, such as Yoast, Keap, DigitalMarketer, etc.
LearnDash is designed to grow with your eLearning platform, whether you have 10 students or 100,000.
LearnDash lets you create engaging online courses with dynamic videos, quizzes, FAQs, challenge exams, etc.
This LMS plugin has all the features that a modern LMS plugin should have. Additionally, LearnDash integrates well with many other tools.
LearnDash does not have a free version, but you can still try the demo version. LearnDash offers 3 pricing plans.
Here are the packages:
For 1 site – $199/year
For 10 sites – $399/year
For unlimited sites – $799/year
To help you get your courses online, LearnDash offers a 15-day money-back guarantee.
There are tons of features in LearnDash. To find out more about LearnDash, check out here.
What is the LearnDash cloud? LearnDash Cloud Review 2023
LearningDash recently launched the LearnDash cloud, a hosted version of the platform.
Although it's an awesome plugin for those looking to sell courses online, purchasing hosting, domain, and installing WordPress can be challenging for many small businesses and creators.
This is why LearnDash has introduced the LearnDash cloud service so that you can have everything in place.
The new LearnDash Cloud hosting service has made it easier to publish online courses.
Now you won't have to worry about domain management or day-to-day maintenance.
LearnDash will handle all maintenance activities while you concentrate on selling your courses or generating leads.
You can now easily publish online courses with the LearnDash cloud. It takes just three steps to launch your courses:
Use the onboard wizard to get started
It's easy to get started with LearnDash. You can easily set up your LMS site with the onboard wizard.
The setup wizard makes it very simple, and If you want to change some information, you can do that later on. While setting up, the setup wizard asks you a series of questions.
You need to select the type of LMS website you want to create, and the setup wizard will take care of the rest.
Choose a beautiful, optimized theme.
The next step is choosing a beautiful theme for your online course platform. There are several themes for LearnDash; choose one to get started.
There are some good education or LMS-based themes that are very well-optimized and designed for LearnDash. You need to pick one that you find helpful and that suits your need. 
Launch your course
After installing LearnDash and setting up your theme, it's time to create and publish courses.
You do not need to worry about anything else. The biggest advantage of LearnDash hosting is that you can concentrate on creating and selling courses and leave the rest to the LearnDash Cloud.
LearnDash's team will handle maintenance and other hosting-related tasks!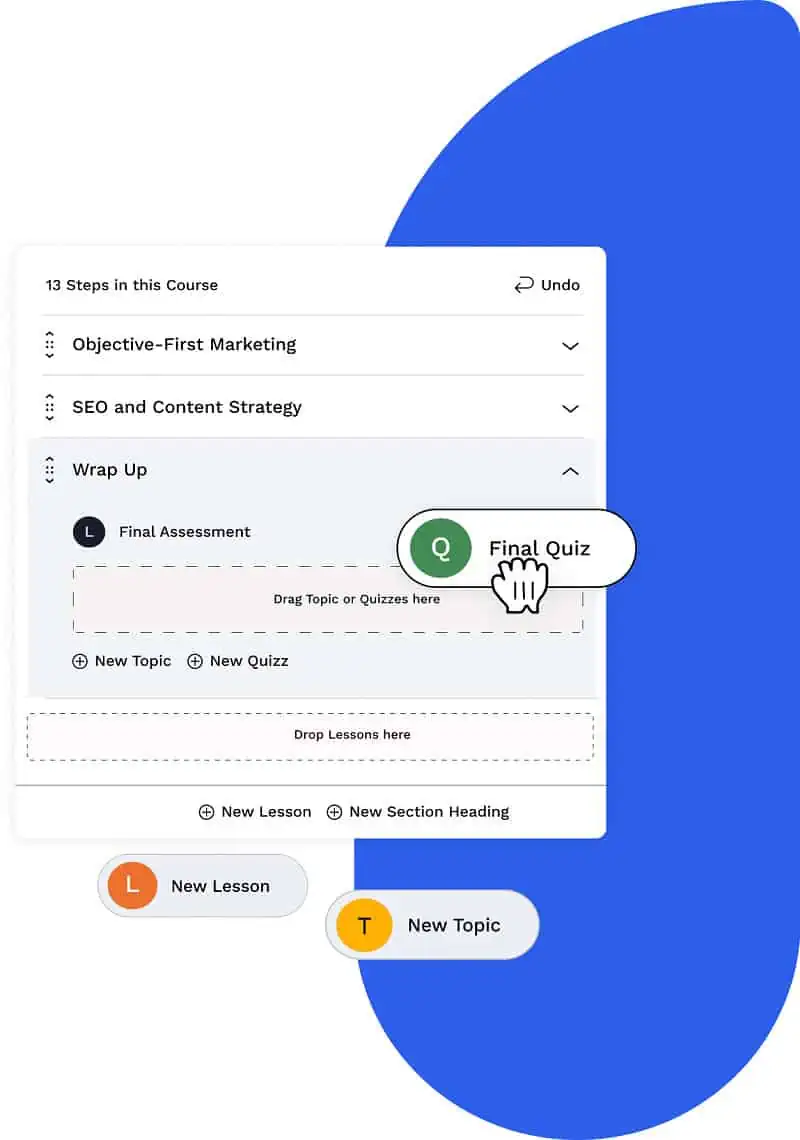 LearnDash provides all the features you need to create your own courses. The platform allows you to add dynamic videos, quizzes, and final course exams.
The platform also allows you to create custom certificates for your courses using the certificate builder.
Upon completion of the course, students will receive this certificate. That's awesome, isn't it?
How to try the demo of LearnDash
Would you like to try LearnDash? This is fine, we understand your enthusiasm, and it is best to test out a product before buying it.
If you want to try out LearnDash, go to LearnDash's official site and ask for a demo site. Click here to view the LearnDash demo.
In the top right corner of this page, click on " View a demo site. "
After you click the link, a pop-up will appear asking for your email address. Click the "Get Instant Access" button, and it will create a sandbox environment with a whole WordPress website. Now you can check out the LearnDash cloud's demo site!
Should you use the LearnDash cloud or the LearnDash plugin?
Let me tell you something very clear: the LearnDash plugin comes with the same features as the LearnDash cloud.
We recommend jotting down your goals and technical expertise while you are trying to decide which one to use.
You can use LearnDash's base plugin if you are comfortable setting up your own WordPress site, buying and setting up the domain, and performing daily maintenance.
If you are a developer or you have enough experience handling WordPress-related tasks, then LearnDash Plugin is the ideal choice for you.
However, LearnDash's cloud service is best for beginners who don't know how to build websites, how to setup WordPress, buy and setup domains, or do maintenance. If you don't have enough time, consider using LearnDash Cloud.
With LearnDash cloud, you will have access to all the benefits of managed hosting service, such as creating WordPress websites, managing domains and hosting, updating websites, and so on.
You won't have to worry about technical aspects of your Learning Management System when using LearnDash.
Since you don't have to spend your precious time managing hosting and website maintenance, you can focus on important things such as creating your courses and adding questions, quizzes, and other important things to the course.
LearnDash Cloud will allow you to create and sell courses more effectively.
What about the current LearnDash subscribers?
LearnDash's cloud is a brand new feature added to the existing LearnDash platform.
LearnDash will continue to adhere to its commitment to the core LearnDash WordPress plugin despite this exciting Learn Dash Cloud service update.
As of right now, LearnDash has a user base of over 43,000 course creators around the world, and it will continue to update and modify its plugin to meet the needs of all of them.
There will be no changes for current LearnDash subscribers. The LeanDash will continue to provide updates to make more strong the most robust learning management systems.
No matter if you are a small business, a client website, or a Fortune 500 company.
To ensure its users have the best LMS experience, LearnDash has promised to maintain its commitment and continue to improve the WordPress plugin.
Why LearnDash Cloud is a pretty big deal
StellarWP recently launched LearnDash Cloud.
A trend has been emerging in which popular plugins are also releasing cloud-based services like Elementor Cloud.
LearnDash has traditionally been a product used by freelancers and web agencies.
LearnDash allows you to add course functionality to a website for clients when you build a website for them.
It is also true that there is a whole market of do-it-yourselfers who want to make their courses available as quickly and efficiently as possible.
They have never considered LearnDash. They considered Kajabi, Thinkific, Teachable, and Podia.
Those platforms allow you to upload your videos and go.
You don't have to worry about hosting plans, control panels, installing WordPress, installing plugins, speed, security, or plugin updates.
LearnDash Cloud helps minimize these barriers.
Now LearnDash can serve a new client and offer recurring subscriptions.
Can LearnDash Cloud compete with the platforms Teachables?
Currently, we don't know.
It is important to note that LearnDash Cloud is still powered by WordPress, and the user interface could be more streamlined than some of the existing dedicated platforms like teachable, podia, Builderall, and Kajabi.
LearnDash Cloud Review Conclusion
Compared to other WordPress LMS plugins, LearnDash has been in the market for a long time.
This makes it one of the most reliable and robust learning management systems.
With LearnDash's cloud-based learning management system, the future of learning management systems looks bright.
There is no doubt that LearnDash hosting will be a game changer, and it will compete with big players in the market.
LearnDash cloud does not add any new features to the plugin, but it does come with all the benefits of managed hosting.
Is LearnDash cloud a good fit for you? Comment below and let us know what you think.
FREE DOWNLOAD
Ready To Make Money Affiliate Marketing
Learn These 7 Pillars of Affiliate Marketing I've Used To Create A Hyper-Profitable Affiliate Business From Scratch So You Can Make Your First Commission Online…