In this blog post, I'm going to review Qwary. In this Qwary review, I'm going to present to you all the features that this software comes with and also help you decide whether this tool is right for you or not.
Qwary is a complete and comprehensive customer feedback management platform that helps businesses increase customer loyalty, drive corporate loyalty and loyalty campaigns, and achieve personal engagement.
With thousands of businesses already using Qwary, the platform has helped them to:
How Qwary can help you?
Qwary lets you create unlimited surveys with endless questions.
Sentiment and intent analysis built into the advanced branching system will ensure you get better responses.
Qwary allows you to see all responses in real time via the dashboard, and you will never lose your data!
Additionally, Qwary can help you collect even more customer feedback with forms on your website, text messages, and email surveys.
The Qwary key driver tool helps your company gain actionable insights from conversational survey feedback.
Consequently, you can determine what products, entities, and services directly impact your customers and increase their sales.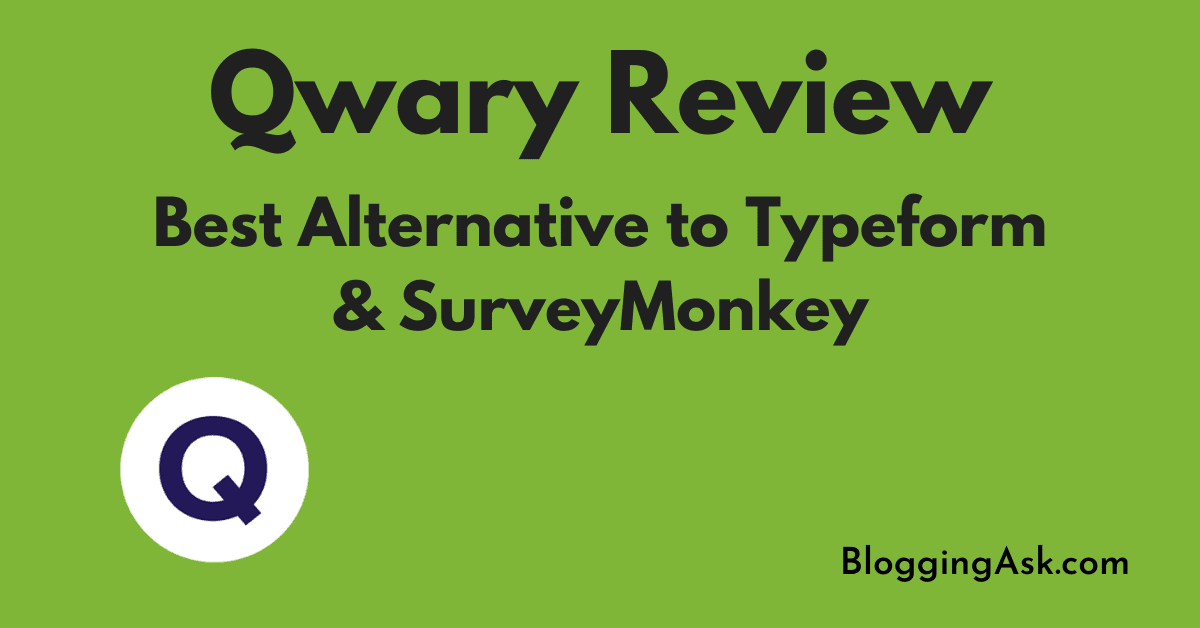 With the Net Promoter Score, you can measure customer satisfaction with a single number that gives a wealth of data with just one simple direct question.
Using Qwary's multiple touchpoints across several platforms, you can even match the NPS survey to specific moments in the customer journey and then measure the results over time.
Their simple, friendly & engaging surveys can be accessed over the web, through texts, Alexa skills, or Facebook Messenger for companies to have a more effective conversation with their customers and employees.
Qwary's advanced analytics lets you delve deep into the data and unearth previously unseen trends.
Additionally, Qwary offers you 100+ languages, so you can compose your survey in one language and translate it into your customer's language with a click of a button.
Customer care surveys can drive loyalty while addressing targets, creating a compelling customer experience strategy, and specifically addressing your customers' needs.
By using asynchronous video forms, you can talk to your audience directly and capture more meaningful responses/feedback from the customers.
Additionally, Qwary's white label surveys look beautiful, allowing you to represent your brand seamlessly throughout the customer journey.
Qwary Features
Qwary allows you to create beautiful, engaging surveys and collect more responses to help you improve your business.
Qwary's main features include
Qwary Integration
By connecting Qwary with all of your survey data, you can access and utilize it all from a single location. It integrates seamlessly with Salesforce, Hubspot, Zapier, Google, and more
Qwary Pricing and Plans
Qwary offers two types of Pricing plans, one for individuals and one for Businesses. And they have three plans for both categories. Basic, Advanced, and Pro.
They also have a free seven days trial without entering your credit card details. So if you want to test out the platform, you can take a seven days free trial and check out if the platform is good for you or not.
Let's have a look at its pricing plans.
Qwary Pricing for Individuals
Basic
The basic plan allows you to collect 1,000 Responses/Month, and it costs you $19/Month.
Advance
The advance plan allows you to collect 3,000 Responses/Month, and it costs you $49/Month.
Pro
The pro plan allows you to collect 7,500 Responses/Moth, and it costs you $99/Month.
Qwary Pricing for Business
Basic
The basic plan allows you to collect 5,000 Responses/Month, and it costs you $32/month.
Advance
The advance plan allows you to collect 10,000 Responses/Month, and it costs you $75/month.
Pro
Pro plan is a custom plan, and you can directly contact their sales team for detailed information.
Apart from it, Qwary also offers a special discount for startups, students, and non-profit organizations.
If you are one of them, you can submit your details. They will go through it, and if they find you eligible, you will get a 50% discount if you are a startup, a pro plan subscription if you are a student, and a 60% discount if you are a non-profit organization.
Qwerty Pros and Cons
Pros
An amazing tool with a fantastic team
The Qwary people are very enthusiastic about their product and helpful.
The best alternative to SurveyMonkey and Typeform.
Even though I've only been using it for a few weeks, I'm confident that its use will enable us to capture insights from our audience to improve the experience
Cons
Zapier is required for the integration, which is very limited. Zapier is too expensive for small businesses.
The tool does not have many native integrations.
Apart from this I found no missing features in the software.
Qwary Affiliate Programme
The Qwary affiliate program will let you earn up to 40% commission per referral.
As a result, you can generate extra revenue while using the platform.
Frequently Asked Questions about Qwary review.
What is included in the free plan?
With the free plan, you can access all question types, 100 responses, and three active projects.
How can I sign up for the 7-day risk-free trial?
You can get a free trial account without providing a credit card.
During the seven-day free trial period, you can explore all of the features available in our Enterprise plan risk-free.
What happens if my trial ends?
You will lose access to premium features after your plan downgrades to free. If you want access to premium features, you can upgrade anytime.
Is your data secure?
Qwerty's data is stored in Amazon Web Service Cloud (AWS) in Northern Virginia, USA. To protect data and ensure privacy, they have built their infrastructure using the highest privacy standards. Customer privacy is
important to the company.
How do I cancel my account?
You can downgrade or cancel your subscription. Log in to your account, go to pricing, or send them an email, and they'll cancel it for you.
Conclusion
You can save thousands of dollars by using Qwary instead of SurveyMonkey and Typeform. The software allows you to gather and analyze customer feedback quickly.
The Qwerty platform lets you create excellent interactive surveys and forms to measure NPS, CSAT, CES, and more.
Qwerty is ideal for marketers and business owners to increase survey response rates and capture more customer feedback.
If this Qwary review help you share it on social network.
FREE DOWNLOAD
Ready To Make Money Affiliate Marketing
Learn These 7 Pillars of Affiliate Marketing I've Used To Create A Hyper-Profitable Affiliate Business From Scratch So You Can Make Your First Commission Online…