Builderall is a complete all in platform. It provides all the tools you will ever need to launch and run a successful online business. It ensures that you don't need to spend time and money on numerous stand-alone tools.
If you're looking for Digital Marketing all tools on one place for your online business and there is no way you can find it, then this Builderall might be your solution.
In this blog post hopefully you will find out What is Builderall, does it suit your online business or not.
Read more about Builderall I have published a detailed Builderall review.
Here I explored general features and benefits of Builderall, as well as some negative parts of Builderall.
So, let's begin.
What Is Builderall?
Builderall is an all-in-one internet marketing platform, it comes with the bundle of all the essential features and tools to assist the business and to empower their digital marketing efforts.
If you prefer to have all the useful applications and features for your business marketing and setup in one super platform, than Builderall is best choice for you.
This platform is particularly designed for busy digital marketers and every one of those who work online.
So rather than purchasing the needed tools individually for your online marketing campaigns, Builderall offers all assets you require in one spot.
Benefit's Of Builderall
Since switching from one tool to another can be frustrating, time-consuming, and costly, a cost-effective plan of Builderall offers all the important resources you require to set up the online business at a single platform.
It saves your time and money in buying services from different platforms.
It will perfectly assist you with creating and overseeing the sales funnels and landing pages, it also serves as a drag and drop website designer, shows heat-map investigations, gives unlimited e-mail marketing and so on.
We can say Builderall has a collection of everything needed in digital businesses set up and marketing.
From website builder, hosting, sales funnel builder, e-mail marketing till video apps, e-commerce builder and so on.
Who Is Builderall For?
Builderall is for all online and offline entrepreneurs in need of essential digital assistance in their business.
It additionally offers affiliate marketers an opportunity to increase revenue through the great Builderall affiliate program.
It is likewise ideal for the new marketers and beginners who desire to start an online business yet are uncertain where to begin, and lack coding and design professional skills.
So, no matter what your plan setting and experience is, this instinctive platform, linked with complete support content, make clients able to create and advertise their businesses including products or service.
It is helpful for the affiliate marketers, business owners, product creators, website designers or web service providers, and a lot more will cherish the simple to-utilize features offered by Builderall.
Features of Builderall
Being consistent with the name, it provides thirty plus essential features.
These all are designed according to the needs of the online entrepreneurs.
Throughout this Builderall review we will list some of the significant features below:
Cheetah Website Builder
It's the newest drag-n-drop website builder and it occurs to be the phenomenally quick and responsive. Metrics showing that Cheetah have a highest page loading speed.
It's allowing you to make any page of your choice from many high-converting and incredible templates rapidly and without any problem, worth to mention that all templates are fully optimized for search engines making a job of SEO a lot easier.
Currently, the best thing of Cheetah is that site design is highly mobile friendly and give one of the fastest mobile uploads so it's perfect if you want to reach smartphone users, and we can agree that this is majority of users on internet today.
This is the savvy and brisk approach to build the websites, lead capture pages, online articles/blogs, and so on.
MailingBoss E-mail Autoresponder
One more great feature of Builderall is e-mail autoresponder which gives you UNLIMITED subscriptions, which is unique in industry.
I still didn't find that any other e-mail autoresponder provider giving unlimited email marketing without upgraded plan.
So there is no compelling reason to buy an extra costly add-on from another source.
You can develop autoresponder campaigns, enhance your conversations, and can apply behavioral triggers very easily.
Sales Funnel Builder
This feature is simplified and build effortlessly any sort of sales funnels with the help of the most impressive platform available commercially.
It is intuitive and speedy to use.
Another exciting feature of sales funnel builder is the tremendous range of beautiful, professional and high-converting templates that it offers to the clients.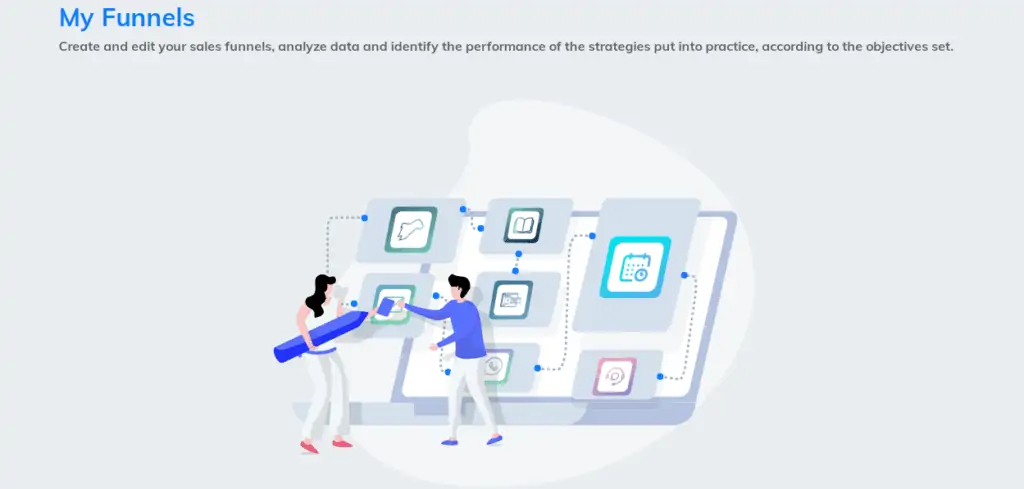 Regardless of whether you are hoping to make a website, landing page, or sales funnels the sales funnel templates come in loads of variations, combinations, and checkout choices.
It is easier than ever to produce sales letter, webinar and lead magnet funnels with the use of these templates.
Every template is designed to expand sales and conversions, that is exactly what you need for your online business.

Funnel Club
In this Builderall review certainly is worth to mention a most recent feature Funnel Club which can give amazing value to your business as it provides you access to 300+ high-converting funnels with numerous landing pages created by the copywriters and designers belonging to different niches.
Here you can find specifically designed templates for:
– Niche funnels
– Lead capture funnels
– Agency funnels
– Info Product funnels
– Physical Product funnels
– Chatbot funnels
– Builderall Premium funnels
As you see in Funnel Club you have huge choice of templates which you can incorporate in your bussines what is making Builderall very competitive on the market.
Negative thing of Funnel Club is that is not part of regular premium plan, it need to be purchased with one-time fee of $199.
SEO Tool
You can acquire the assistance and confirmation of SEO on the websites and pages including the data you require to make your page a perfect SEO as much as possible, that ultimately boosts the visits on the pages.
You can create SEO report for any URL and not only for Builderall pages.
App Builder
The App Builder allows you to create the perfect applications for your business.
Customize your site even further with the app builder. Get the exact tools you need on your page to showcase your product or service.
E-Commerce App
The E-Commerce app takes care of all of your transactions. The app makes selling on your site incredibly easy.
Make an e-commerce shop that looks great and functions even better.
The app can be personalized exactly how you need it.
It also has features for offering upsells and exclusive checkout options for your customers.
Webinar builder
Showcase your product or service in a beautiful and professional way.
The Webinar Builder allows you to create presentations for each of your products or services and presents them to your customers at the perfect time to increase conversion.
Animated Video Tool
As its name recommends, it's tied in with making vivid, animated pictures.
This feature might be somewhat daunting for the beginners, especially non-tech individuals. However, when you use it it might turn out to be a phenomenal tool.
For instance, you can utilize it to make sales recordings or instructional videos.
Design Studio
Builderall design studios section is backed with an office panel that gives you with all the options of tools you can use to make and design various stuff.
It has more than five applications and is all helpful if content promoting is perhaps on high priority.
Great Support
Builderall offering live chat support on website and ticket system through the e-mail.
Operators are very kind, supportive and fast.
On live chat support you will get reply almost instantly during working hours.
In addition to standard support, you have over 100+ different tutorials (specific for certain tools and general for online business), an extensive knowledge base for each app, 3 Facebook groups with more than 40,000 members and the Builderall YouTube channel where you can find almost all information you need.
To summarize it, dynamic support which is available on this platform is hard to find on another programs.
What is Builderall Affiliate Program?
This feature is a wonderful opportunity with amazing 2-tier commission structure for the ones wishing to set up a sustainable online business with the expectations of periodic monthly revenue.
Here is how much lucrative can be promoting of Builderall:
– You receive 100% commission on your personal sales on first month what your referall pay, every each month after you getting from the same referall 30% commission for the entire time that person is a subscriber to the platform, aka lifetime commissions
– If your referall also promoting Builderall you will get 30% commission on their personal sales each, so that mean you will have lifetime commissions on their 1st tier referalls, pretty amazing isn't it, that's the beauty of 2-nd tier commission structure.
Builderall Affiliate program incorporates all the tested sales funnels and email sequences that would help to grow and market your business automatically.
It also provides a good incentive to make a team of affiliates under supervision.
What is Builderall Pricing in 2022?
There are currently three plans offered, Marketer Plan, Premium plan and the Funnel Club plan.
The Marketer Plan is $69.90/month, Premium plan is $79.90/month, and you get all features except the Funnel Club.
For Funnel Club on-time paying fee of $199 and continued monthly subscription of Premium plan from the 2nd month of subscription.
Off course, there is a 14-day free trial where you can check out all features and decide if Builderall is the right choice for you or not.
Pros and Cons of Builderall
Builderall has several benefits and some drawbacks as well. A couple of its pros and cons are listed below:
Pros
  Regularly updates new features 
 More than thirty-five features in a single platform at matchless pricing  
Good for the entry-level entrepreneurs, especially those seeking a low budget platform       
Offered 14-day free trial
Provided with the drag-n-drop website, sales funnel and landing page builder
 Unlimited automated email marketing with tagging
Offers a webinar platform with several functional capabilities for the user
Equipped with the countless number of apps to boost the website and marketing funnels
Digital products courses and consultation is also available      
An easy payment processing & power affiliate management system
App Builder available
A/B split system available
E-commerce builder
 Magazine builder applicable
Cons
 For newbies and unskilled individuals, too many features and resources can prove daunting.
All versions of Builderall possess many favorable features, but as a whole package, it can become hard to use.
The platform keeps on adding different apps and tools, and there lies down an inconsistency in the interface and user aspects between different apps
Should You Use Builderall?
In summary, there truly is a lot you can do by using this platform, it is also easy to learn.
By integrating an advanced digital marketing platform like Builderall into your online business could be an easy and valued decision.
Yet, for individuals, it streamlines the workflow who like the availability of multiple tools in a single platform.
Builderall is a cost-effective and most convenient platform for using various important digital marketing tools.
You should try using this platform because it includes everything that you need for a sustainable and successful online business, which prevent you from wasting money, time for searching and buying various stand-alone products that may or may not integrate anyway.
Hopefully till now this Builderall review clarify things for you, but if you are still in uncertainty and searching for a way to test this platform for yourself, it offers 14-day free trial plan.
In this manner, without a doubt, you can choose whether this platform coordinates your business' necessities or not.
The availability of easy to use packages makes it further convenient and great for the beginners as well. Moreover, Builderall is continually developing and trying to keep up to date as per clients' needs.
So if you are searching for a fully integrated platform to build or manage the new or existing online business, Builderall is an ideal option to look at, as it's unquestionably has proven to be the best fit for the digital marketing and online businesses.
FREE DOWNLOAD
Ready To Make Money Affiliate Marketing
Learn These 7 Pillars of Affiliate Marketing I've Used To Create A Hyper-Profitable Affiliate Business From Scratch So You Can Make Your First Commission Online…