SiteGround is a highly rated and most popular hosting provider in the WordPress circle. 
Siteground provides high-quality speed and a top-level security solution to create your blog faster and more securely. 
The company is known for the best 24×7 support in the hosting industry that's why they are officially WordPress recommended hosting company.
Siteground comes up with amazing features like automatic upgrades, CDN, build WP caching, one click, and GIT control. 
What is great about SiteGround is that unlike most hosting providers you get to choose where your server is located they have two in Europe one in Asia and one in the United States of America.
By choosing a server that's closest to where the majority of your website visitors will be from you'll make your site load even faster.
In this detailed Siteground Review, I am going to put their commitments to the test. These are the important areas that I will look into.
Overall Performance: Speed is very crucial for the success of your blog or website. How much time does SiteGround take in loading your site?
Overall Reliability: Whether there will be any downtime in 24×7/365?
Customer Support: How do they support their users?
Features: Does Siteground provide all the features and important tools that you will need to create your site?
Plans and Pricing: How much their plans would cost you? Are they providing any deals or discounts on their plans?
About SiteGround
The company was established way back in the year 2004, and since then Siteground has become one of the best hosting providers among all well-known hosting companies in the industry. 
Their headquarters is located in Sofia, Bulgaria with other offices in six locations and data centers in 3 continents.
Currently, it has around 400 to 500 employees and they are providing hosting more than 500,000 websites across the globe.
Pros and Cons of SiteGround
Every hosting provider company has its own advantages and disadvantages. Some advantages may overshadow the disadvantages, but some advantages may be an amazing deal for your individual requirement.
So, before making any conclusive decision, you should be aware of the Pros and Cons of SiteGround.
Pros of Siteground
These are the reasons why Siteground is amongst the top-rated hosting provider companies across the globe.
Superfast servers: All the SiteGround servers are super fast as well as highly optimized for speed. Siteground is well-armed with new hardware like SSD drives. And to make their customer's site super fast they have custom software.
Amazing Customer Support: Siteground has amazing customer support. They are providing 24×7 live chat, phone, and ticket-based customer support.
Free CDN and SSL: They are offering free SSL certificates from Let's Encrypt with all their plans and also Cloundfare's free CDN with instant setup.
Multiple Server Locations: As I have earlier Siteground has data centers in 3 continents. You can select the location according to your needs at the time of purchasing hosting.
Cons of Siteground
As I mentioned above, each and every hosting company has some downsides. So, here are some cons of the Siteground.
Limits on Storage: Siteground offers fixed storage with its plan. However, this limited storage would be quite enough for you, if you are just starting.
Huge Monthly setup fee: They charge a monthly bill of $14.95 as a setup fee if you select your payment on a monthly basis.
I recommend you go for a longer period plan, then you are going to get a damn good concession and no setup fee. As the Siteground is offering 30 days money-back guarantee, it would be a good idea to choose a longer period plan when you will sign up.
SiteGround Review-Live with Bluehost and Dreamhost
I bought a SiteGround account and set up a live test so I could monitor their performance in real-time just so the information would be as up-to-date as possible let's go over the test results and the advantages and disadvantages of using SiteGround.
To start my test I've created three identical websites.
The only difference was the hosting provider for the tests I've used SiteGround, Bluehost, and DreamHost all three officially recommended by WordPress.
So, I installed WordPress on all three websites using automatic WordPress installers that each web hosting provides and once my websites were up and running I've closely monitored the speed performance and downtime.
Here are the results.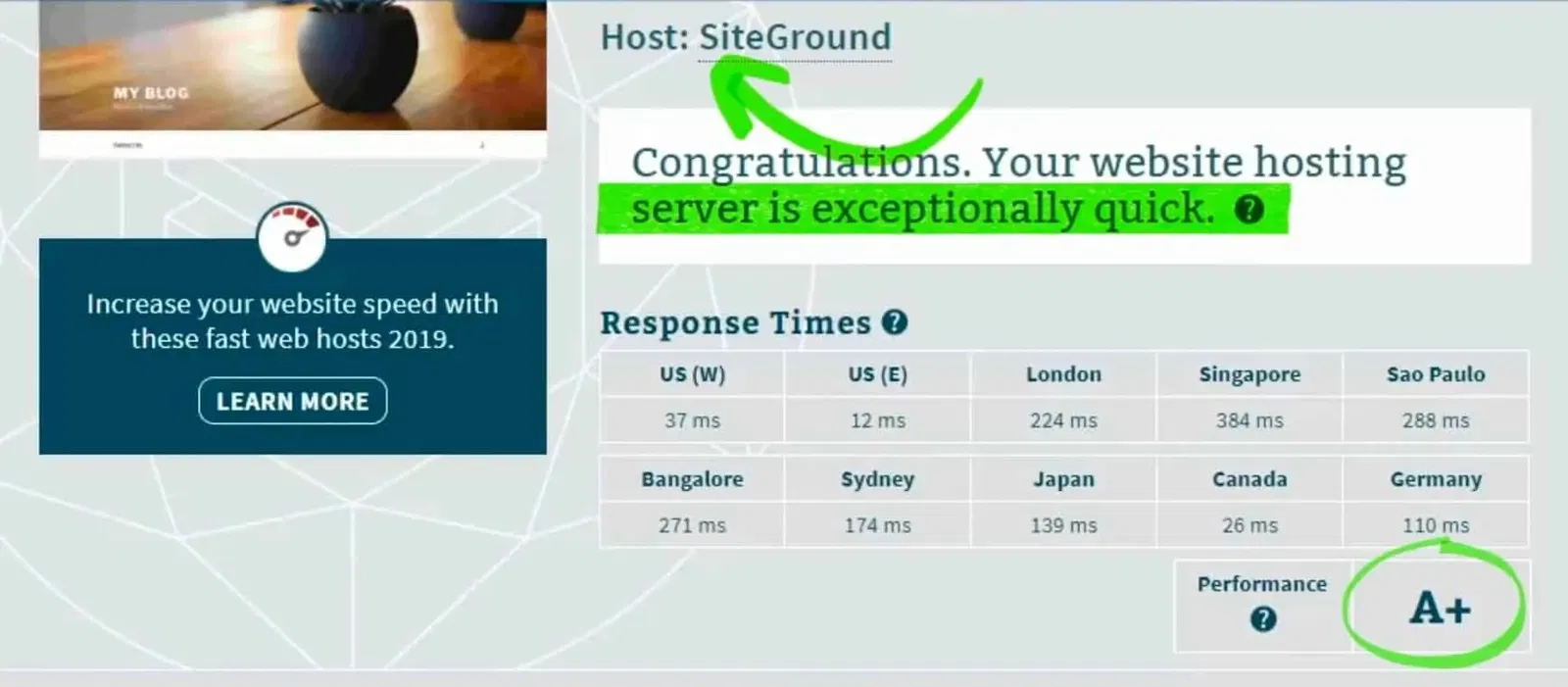 SiteGround was the fastest out of all three and not just in the United States when using SiteGround you can expect your website to load exceptionally fast all around the world SiteGround scored an A+ while DreamHost and Bluehost were not that far behind both scoring an A.
However, I did experience some stability issues in the last 24 hours my SiteGround website was down four times in total only for around three minutes but Bluehost and DreamHost did not have such issues.
Overall SiteGround seemed to be the fastest web hosting out of the ones that WordPress recommends especially if you're planning to go international but you might experience some short downtime periods.
Here is an example of the speed comparison of SiteGround, Bluehost, and Dreamhost.
See SiteGround Last 1-year average UPTIME:
November 2019 average uptime: 100%
October 2019 average uptime: 100%
September 2019 average uptime: 99.99%
August 2019 average uptime: 99.99%
July 2019 average uptime: 99.98%
June 2019 average uptime: 99.99%
May 2019 average uptime: 99.98%
April 2019 average uptime: 100%
March 2019 average uptime: 99.99%
February 2019 average uptime: 100%
January 2019 average uptime: 99.99%
December 2018 average uptime: 99.95%
Well at least I did but this sort of thing is always the luck of the draw and these results aren't actually that surprising SiteGround is the most expensive option out of all three.
So we would assume they're running better hardware that's more expensive and more tailored to your servers.
Siteground plans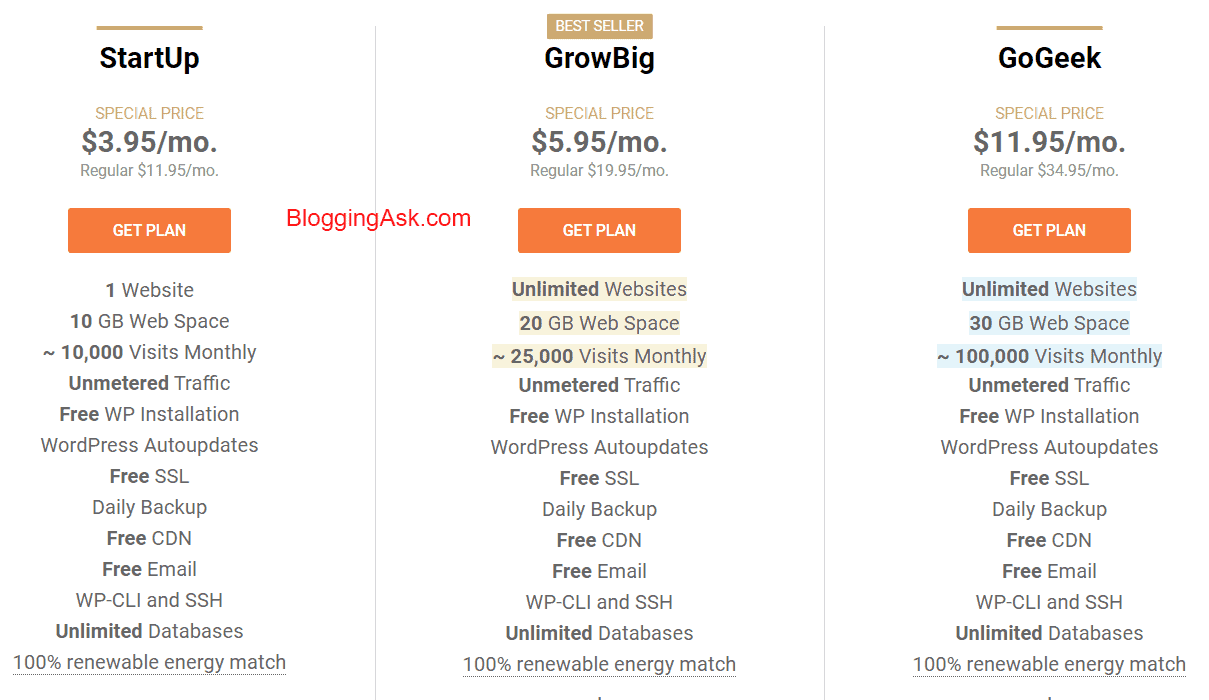 Well, talking about price let's see how much exactly Siteground is going to cost you but before I continue I would like to share something with you during this article.
I often mentioned that my work is supported by affiliate commissions but what exactly does that mean, well if you as awesome as you are purchasing a service using the links on this page as a thank you for bringing a new customer the hosting provider, they will pay me a commission and as a bonus, for supporting me the hosting provider will give you a discount it's a win-win-win situation.
You get a discount. I'm able to give honest reviews and support my blog and the hosting provider gets a new client and that is precisely why I ask you to use the links on this page.
Okay now let's talk some SiteGround prices the cheapest plan with SiteGround will cost you 3 dollars and 95 cents per month but it's actually a one-time payment of 47 dollars and 40 cents and you're able to use their services for one year if you also want a domain name for your website that will cost you an extra 15 dollars and 95 cents so that's a total of 63 dollars and 35 cents.
You will be able to host one website with 10 gigabytes of SSD storage space, register your own name and make your website secure using an SSL certificate is this cheap or expensive.
I hear you're asking well technically because anyways this is spiraling out of control so let's just compare site ground to Bluehost and DreamHost in terms of pricing for a one-year hosting plan with an SSL certificate and a domain name.
Bluehost will charge you $49 and DreamHost will cost you $47 dollars.
What are the differences between the different plants that Siteground is offering their cheapest plan will only allow you to create one website while the GrowBig and GoGeek plans allow unlimited websites
GrowBig and GoGeek plans are also better suited if you're expecting more visitors to your website.
The extra resources that these plans offer will make sure your website won't slow down if a lot of people are browsing at the same time.
One of the biggest differences is that according to SiteGround, GoGeek offers twice the computing power that other plans are offering and is used by ten times lower the number of customers.
So if you're looking to buy web hosting based on price alone I would say that SiteGround offers the best bang for your buck yeah you will be paying a little bit more here and there but you'll be getting a premium quality service.
SiteGround also offers free website transfers with their GrowBig and GoGeek plans so if you have a website hosted with another provider one of the SiteGround experts will take care of all the technical details and transfer your website to SiteGround free of charge.
Unrelated but equally important is the fact that SiteGround is actually an independent company meaning they have more control over the prices the features and the quality they're giving you for you as a customer.
This is always the best possible deal. I've covered some of the points that make Siteground great to use but it's not all sunshine and rainbows let's dive deep into some downfalls that come with using SiteGround right off the bat.
If you're planning to store a lot of files on your website do not use SiteGround even with the most expensive plan you'll only get 30 gigabytes of storage space just as an example
Bluehost gives you 50 gigabytes with their cheapest plan.
Even ten gigabytes is perfectly fine for a media-heavy website but for file storage there is definitely better options available out there and another huge flaw is their renewal prices.
After your initial plan with SiteGround expires renewals will cost you three times as much so you're incentivized to buy your plan for a long period of time to delay the renewal as much as possible.
For example, if you buy the middle plan which is GrowBig for three years the first payment will be $214 but once that three-year plan expires your next payment will be $718.
Remember you can get the best possible prices and help support my blog at the same time by using the link given below.
Since SiteGround is officially recommended by WordPress all of the WordPress integration is as easy as you might expect.
SiteGround will set up WordPress on your hosting account automatically and you'll be able to fully customize your website using themes and plugins.
Creating a website is as easy as it gets, no coding, and no technical knowledge are needed only a dedicated website builder like Wix or Weebly would make it easier and as a matter of fact Weebly comes pre-installed with SiteGround.
So you'll be able to use all of the templates and drag-and-drop features that Weebly has to offer completely free of charge.
To put it simply SiteGround is a one-stop shop for website creation you'll be able to go from not having your website at all to something that people can visit online in like 15 minutes.
SiteGround Customer and Technical Support.
You must have seen praises for Siteground's technical and customer support. They have the ultimate support team which helps, and provides knowledgeable support to their consumers.
If you get stuck somewhere SiteGround has a support team that's actually famous at how good they are.
Let me show you an example.
SiteGround spared no expenses or manpower when it comes to their support team you're able to get help through phone email and chats all of which reply pretty much instantly.
Phone support takes around one minute and you're already speaking to an actual person. Chat support consistently responded in less than a minute and the answers provided seemed like I was chatting to real people.
I would recommend SiteGround to anyone who expects to have users from all around the world, not just the United States or UK and values a high-performing fast website.
Our Verdict: Is SiteGround Really the Right Option for You?
So, you have read the Comprehensive Siteground review, and now you are thinking if it is a good choice for you to host your website.
If you are looking for reliable and fast web hosting with amazing customer support, then I would say SiteGround is a perfect choice for you.
Here are the reasons why you should opt for SiteGround
They have budget hosting plans which come with great features.
Great customer support
All the shared hosting plan comes with a free SSL certificate, Free Cloudflare CDN service, SSD Storage, 1 click WordPress install, and free site migration.
If you have just decided to start a blog or website, then you will love their services and customer support.
So, if you have made your mind then click on the button below to choose your hosting plan right now.
FAQ Related to SiteGround Review
Is SiteGround any good?
I have found Siteground, faster and extremely reliable with flexible plans and amazing customer support. They have the best customer support in the industry.
Is SiteGround better than Bluehost?
Compared to Bluehost Siteground would be a better choice for shared, Cloud or WordPress hosting. Though Bluehost offers cheap initial and renewal plans, yet Siteground has super fast speed, reliability and especially good technical support that is far better than Bluehost.
How much does SiteGround cost?
SiteGround comes with 3 shared hosting plans, that ranges from $3.95 to $11.95/month.
FREE DOWNLOAD
Ready To Make Money Affiliate Marketing
Learn These 7 Pillars of Affiliate Marketing I've Used To Create A Hyper-Profitable Affiliate Business From Scratch So You Can Make Your First Commission Online…