Are you looking for a free email marketing service? If yes, then you have landed on the right page.
Today, in this post, I will tell you some of the free email marketing services (freemium) from which you can grow your business or sales at a good level.
Email marketing is the process of sending a commercial message generally to a group of people through email. It uses email to send requests for business, advertisements, solicit sales or donations, and many more.
Now email marketing becomes a very effective way to promote your business or increase your sales. You can increase your sale at a very high level if you send your product details to a targeted audience.
Before going through each tool briefly, first, let's talk about them with a short note:
What are these free email marketing services
Provider
What's Included for free?
Comments
CleverReach
1. 1,000 subscribers
2. 12,000 emails p/m
3. Automations, landing pages, and reports
CleverReach allows limited features with its free plans when you compare it to other newsletter services. It also contains a small ad in your outgoing emails that cannot be deleted.
SendPulse
1. 500 subscribers
2. 15,000 emails p/mWeb push notifications
3. Transactional emails
4. Basic autoresponders
Some unique messaging features with a large sending limit make it's free Plan a number one option for multichannel marketers.
Benchmark
1. Unlimited subscribers
2. 250 emails p/m
3. Web forms List management
4. Basic A/B testing
Despite its free Plan, compromise unlimited subscribers and the limit of 250 emails/month. Still, you would not be capable of doing that much.
Mailjet
1. Unlimited subscribers
2. 6,000 emails p/m 3. Reporting
Same as Sendinblue, its allowance for sending emails is limited on its free Plan with a daily limit of only 200 emails
MailChimp
1. 2,000 subscribers 2. 10,000 emails p/m
3. Reporting
4. List management 5. Mobile features
Same as MailerLite, restricted features are available on the free account. But still have an apple of subscriber amount, and it is user friendly. Additionally, you cannot use their chat or email support. All emails compromise a small ad banner too.
MoonMail
1. 2,000 subscribers
2. 300 emails p/m
3. Basic support
4. List segmentation
MoonMail amazon based email service is terrible in their free version, with an allowance of just 1 campaign per day and 300 emails per month.
HubSpot
1. 1million subscribers
2. 2,000 emails p/m 3. CRM
4. Webforms
Hubspot's free version is limited regarding emails, as it offers a monthly sending limit of just 2,000. All emails compromise their branding presentation. However, their subscribers and CRM features are quite magnanimous.
Moosend
1. 1,000 subscribers
2. Unlimited emails
3. All features included
4. No Moosend branding in emails
Concerning extra features, Moosend is one of the amplest free plans. You can access all the tool areas, and they do not compromise branding presentations in their emails.
EmailOctopus
1. 2,500 subscribers
2. 10,000 emails 3. Stats for 30 days only
EmailOctopus is one of the affordable email marketing services with specific features. It does not reload with tons of features, but whatever it offers is delivered in the best way. You can also integrate EmailOctopus with other tools through Zapier.
Omnisend
1. 15,000 emails p/m
2. 3 forms/landing pages
3. A/B testing
4. Website tracking
Alongside a sizable sending limit, the free version of this eCommerce focus tool comes with various extra features, including website tracking and A/B testing. Omnisedn offers a daily cap of 2,000 emails.

Sender
1. 2,500 subscribers
2. 15,000 emails p/m
3. Autoresponders + transactional emails
4. Push notifications
5. Forms
his easy to use and straightforward email marketing tool comprises a sizable sending allowance and few cool extras features like push notifications and automation.
Sendinblue
1. Unlimited subscribers
2.9,000 emails p/m
3. Webforms
4. Basic reporting
Their free version is quite more restricted regarding emails. You can send up to 9,000 emails per month, but with a daily limit of 300. All emails have their branding presentation too.
MailerLite
1. 1,000 subscribers
2. 12,000 emails p/m
3. Automations, landing pages and reports
MailerLite offers a decent amount of features on its free plan. This includes autoresponders, sophisticated webforms, (limited) reporting and email support. There are only basic structural templates included, however.
YMLP
1. Unlimited subscribers
2. 1,000 email p/m
Your Mailinglist Provider(YMLP) is shabby in both function and form. Its design does not look beautiful. YMLP got outdated to use as an email marketing service. Hope, they will improve themselves in the coming days.
Let's dive in,
CleverReach – Professional But Limited:
CleverReach provides a full enterprise-level email marketing service, with features like marketing automation, reposts, and forms.
Lite version of it allows you to access most of their functions along with 1,000 emails to a peak of 250 subscribers every month for no cost.
What We Liked:
They offer a very user-friendly editor, which is very easy to use. Moreover, they comprise great features like a handy campaign calendar, comprehensive reporting, and praiseworthy automation editor.
Where They Should Improve:
Their free version provides minimal services in terms of templates, registration forms, and automation. Additionally, some of their templates are not responsive too.
Who Should Use The Free Plan:
If EU(European Union) submission is a primary for you and your list is not large, then you can go with CleverReach free plan without any worries – data is hosted within Europe, and double opt-ins come as standard.
Free Trial: https://www.cleverreach.com/
SendPulse – for multichannel messaging:
It offers a multichannel platform, best for those looking to go further rather than just email marketing.
It has many cool features like Viber, SMA, web push notifications, and even transactional emails via Simple Mail Transfer Protocol(SMTP).
SendPuse's free version is ample concerning sending limits, as it has a monthly allowance for 15,000 emails. Unfortunately, it only allows subscribers up to 500.
What We Like:
SendPulse offers some vital and useful features even with its free Plan, including A/B testing, autoresponders, and advanced reporting such as opens by locations and clicks heat maps, web push notifications, and a lot more.
You can also choose to have a free monthly plan of 12,000 Simple Mail Transfer Protocol emails.
Where They Should Improve:
Their email editors are slow and buggy. With such clumsy editors, it is tough to use and manage your email list.
Who is the free Plan suited to:
If your business uses transactional emails or web push to communicate with customers, then SendPulse is an excellent solution for you that can save both(money and time).
Try Free Trial: sendpulse.com
Benchmark – Sleek and Simple:
Benchmark is very popular for the UI(User-Friendly Interface) of its newsletter tools, minimalist, and clean design.
Their free version allows you to access all the areas like marketing automation, forms, surveys, and reposting.
With a few limitations, such as it will not permit you to activate A/B tests or activate automation, sign-up forms will only help you to add 75 a day and 250 emails per month, which is not much at all.
What We Liked:
They comprise a variety of attractive-looking and mobile-friendly templates. With their drag and drop editor, they make it very easy to use for their use even for those who are using their starter plan, i.e., free plans.
Benchmark also offers integration with 300+ tools, including Facebook, WordPress, and Shopify.
Where They Should Improve:
Their deliverability rates are terrible, especially for Hotmail and Outlook inboxes.
Moreover, you have to pay $5/month if you want to upgrade your image storage capacity from 10MB to unlimited, and it only allows for 250 emails/month.
Whom Is The Free Plan Suited To:
Benchmark is an excellent choice for those who need to send more text-based emails than sending emails with images or thumbnail format to their audience. It is a simple and nicely designed tool for this kind of work.
Free Trial: www.benchmarkemail.com
Mailjet – Lots Of Potential:
Mailjet is well known for transactional emails newsletter, Besides their features are still relatively basic(for example, statistics are still in beta).
Their free Plan is ample in terms of ability(unlimited contacts and up to 6,000 emails/month with 200 email/day).
There is little sample regarding accessibility. However, thor premium features like segmentation, automation, and A/B testing are only available to taster only free for 30 days.
What We Liked:
Drag and Drop editor features of Mailjet make it very easy to use. They, too, have a virtuous variety of email templates.
Where They Should Improve:
Many features it offers are still a little new and unfinished. They are just useful for their automation flow of work. Lots of their features are still in the process.
Whom Is The Free Plan Suited To:
If you have work in bulk but do not need advanced features, Mailjet's free Plan is a good choice for you to complete your task.
Free Trial: www.mailjet.com
Initially, they came out as a business email provider, but later they emerged as an email marketing service provider, offering modern features such as email automation and SMS marketing.
Their free version comprises 9000 email/month, and you can even have an unlimited number of subscribers.
Despite this, you can send 300 emails per day. Some of the features are also forbidden.
For example, you would not access ad-free emails, email heat maps, details of openers, and clickers.
What We Liked:
Marketing automation is more elegant than other tools, with a choice to build and even examine various campaign workflows, i.e., based on email engagement, product purchases, page visits).
Reporting is also quite good, despite little troubleshooting that the free version of Sendinblue does not give a brief about who opened and clicked your newsletter. Their paid plans are very affordable, starting at only $25 for 40,000 emails.
Where They Should Improve:
Instead, they have templates that have mobile responsiveness, but not with a broader range. Still, they miss some vital features like A/B testing, provided by other tools used in this segment.
Whom Is The Free Plan Suited To:
Suppose you want to use it in your email marketing to send trigger-based champions(e.g., abandoned cart emails, welcome emails, or emails based on web visits, email engagement) rather than newsletters. Sendinblue is a reasonable choice for you.
Try Sendinblue: https://www.sendinblue.com/.
MoonMail – Powerful, but at a price:
It uses Amazon's cloud network to send their email. However, the free version of MoonMail is minimal, with just a daily capacity of 1 campaign a day(10 recipients per campaign) and only 300 emails per month.
They have no accessibility to automation, and you are bound to use their domain as the email sender address.
The ability to edit custom fields and support is limited too. Additionally, it is not easy to use before starting MoonMail. You have to go through manual setups.
Free Trial: moonmail.io
It comes with many cool features like managing contacts in their CRM and sending up to 2,000 emails a month for no cost.
You can, too, assign contacts to each of them and add unlimited users.
The drag and drop editor is quite easy to use. Sadly, HubSpot does not offer any extra email templates.
You have one simple newsletter or promotion template to customize. You do not even upload your code in HTML.
To access more templates, landing pages, and automation, you need to upgrade to their Sales or Marketing Hub plans.
What We Like:
It allows you to access the robust CRM, ads from the builder, and a few other cool features. In case of ease to use and the first and foremost a CRM, they are ample when making contact. It allows you to store up to one million contacts for free of cost.
Where They Should Improve:
HubSpot offers no cap on contacts, but still, when you take email as a priority, it only allows you to send 2,000 emails a month.
Each email you send contains the HubSpot branding benign placed at the bottom of it.
They should offer the option to upload your templates or provide some lovely templates with the free version.
Moreover, one more limitation with the free Plan of HubSpot is that you are not able to authenticate an email delivering domain through DKIM and SPF properly.
Who Should Use The Free Plan:
Owners from small to medium businesses who require decent CRM can go with the HubSpot Free plan.
Try HubSpot: https://www.hubspot.com
It's a fun branding, and the colorful interface will give you a very eye-pleasing look. Despite the free Plan of Moosend only permits us for up to 1,000 subscribers.
Still, its other features are pretty cool, like you get no Moosend branding in your emails, unlimited emails, and access to additional features.
What We Liked:
Moosend drag and drop email editor is flexible and easy to use, allowing you to create 4 and 3 column layouts.
You can also select any one of 40 email templates available for free users with other marvelous features such as A/B testing, automation, and spam testing.
Where They Should Improve: With its excellent features, Moosend has some down points also such as the automation editor and email and minor issues with deliverability at the beginning.
Whom Is The Free Plan Suited To:
If you have a small email list and want to benefit from unbranded emails and spam testing, Moosedn will be worth giving a try.
Free Trial: moosend.com
EmailOctopus – Email marketing for less:
EmailsOctopus is used to create on top of the Amazon SES service that offers the email foundation.
Now you can choose an AWS account only if you want. That means you can use it the same as other newsletter services.
It offers you 2500 subscribers, for free, with a mailing limit of 10,000 emails per month.
In case you are using Amazon's servers, you will get a free quota of presently up to 62,000 emails per month. (Note: This number can be increased and decrease anytime)
What We Like:
They offer a cheap paid plan(for example, 50,000 subscribers for $115 per month only), and once set up.
This proves as a well sparky newsletter tool that is highly easy to use with API available and Zapier integration.
What They Should Improve:
They offer limited features, despite, if you were searching to send classic autoresponders and newsletters, then Emails Octopus have everything you need.
Whom Is The Free Plan Suited To:
Suppose you would not want to pay any extra fees and deal with affiliate marketing and cryptocurrency or already have an Amazon SES. Then, EmailOctopus is the right marketing platform for you.
Free Plan: www.emailoctopus.com
MailerLite – Tricks most of the boxes: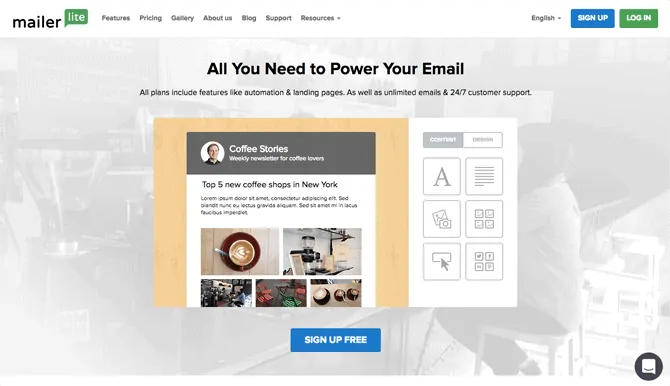 MailerLite mainly emphasizes delivering a simple-looking, no high-fi email marketing service.
It is easy to use newsletter tools with some excellent useful features(e.g., forms, think landing pages, and marketing automation.) Their "Free Forever" plan gives you access to most but limited features.
What We Liked:
Their tool is super intuitive. With less than 1,000 subscribers, you can send 12,000 emails a month and even set up landing pages for free and automation.
Where They Should Improve:
Their templates are not available for free, which means you have to use your template.
There are no features like spam or design testing. Automation functions are too limited(sending updating contact fields, trigger-based emails, etc.)
Who Is The Free Plan Suited Too:
If you don't want to invest more in your business in the initial period, the MilerLite is an all-in solution for your inbound marketing.
Free Plan: https://www.mailerlite.com/
MailChimp – Making email marketing fun: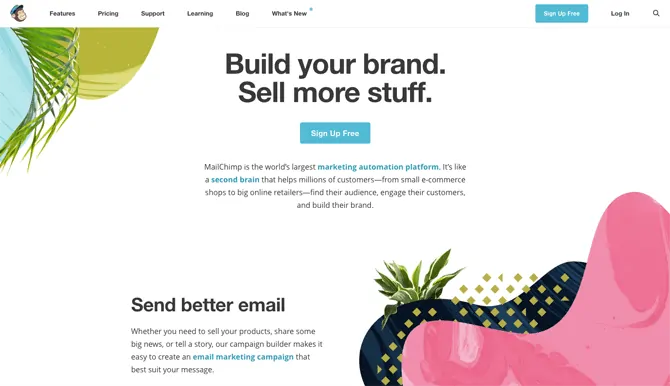 With some stunning and user-friendly features, quirky branding, they quickly become the most popular email marketing service.
They offer up to 10,000 emails a month with contact 2,000 and accessibility to forms, reporting, and A/B testing.
But still, if you want to access ad-free emails, chat/email support, time zone previews, inbox previews, etc., you need to upgrade to one of their pay as you go or monthly plans.
What We Liked:
MailChimp offers a great variety of mobile-responsive and well-designed templates with plenty of flexibility to edit as required.
Their reporting is comprehensive, social activity, eCommerce tracking, email domain performance, with stats on conversions.
Here, you will also provide forms that easily integrate with your landing page, site, and more than 800 third party integration options.
Where They Should Improve:
Their automation could be highly improved with a unstop editor and more automation above just autoresponders. The interface could also be a little bit easier to use, and even emails should tend to end up in Gmail's Promotions tab.
Free Plan: https://mailchimp.com/
Omnisend – a smart tool for eCommerce:
Omisend is an email service that I will strongly recommend for eCommerce.
It has various remarkable features like the ability to automatically add your store's products to your newsletters, automation trigger, and cool email plugins like gift boxes and scratch cards.
Unfortunately, any of these are not available on the free version offered by Omnisend.
With its free Plan, you can send emails in high volumes(It allows 15,000 emails per month, i.e., 2,000 per day).
You will get other excellent features like 24/7 support, deep reporting, A/B testing, up to 3 landing pages/forms.
Free Trial: www.omnisend.com
Sender – easy does it: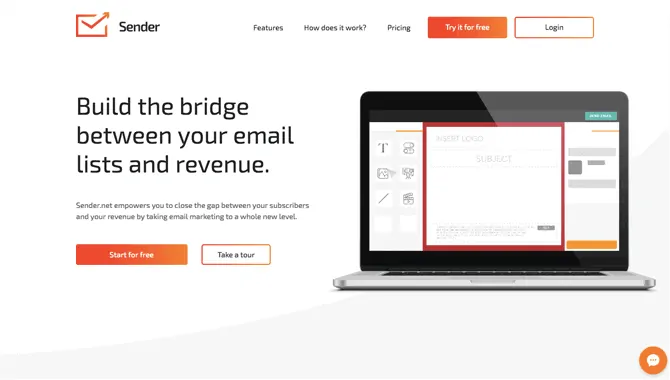 It has a straightforward interface with a smooth user experience that makes Sender the easiest marketing tool to give a try.
Sender's free version allows 2,500 subscribers and up to 15,000 emails per month. It is loaded with features like transactional emails, automation, push notifications, and forms.
What We Like:
The automation included in the Sender's free Plan is advanced; you can send abandoned cart campaigns. It is straightforward to use all its available features.
Where They Should Improve:
Besides having a good email template design, it fails to provide some more templates, and the integration is limited, including WooCommerce, WordPress, and Magento.
Free Plan: https://www.sender.net/
YMLP – it's a no from us:
YMLP free version comprises up to 1,000 contacts, with quite a good level of access to various outstanding features, but there are still many issues that should be improved.
Both their editor and templates are incredibly outdated. You will also not get data on clicks, contact activity, or opens.
Presently, we don't recommend this as a free email marketing software.
Free Plan: https://www.ymlp.com/
Conclusion:
Now, you know with which Free Email Marketing Service you should increase your sales or business or whatever you want to achieve through email marketing.
Here, in this blogpost on Free Email Marketing Service, I had mentioned all the top and popular free email marketing tools that you can use to grow your business without investing money.
Let me know your final decision in the comment section of this article, and don't forget to write the main reason behind choosing it as your perfect free email marketing platform.
FREE DOWNLOAD
Ready To Make Money Affiliate Marketing
Learn These 7 Pillars of Affiliate Marketing I've Used To Create A Hyper-Profitable Affiliate Business From Scratch So You Can Make Your First Commission Online…