Would you like to run fundraiser campaigns on your website? Are you wondering if GiveWP is the right option for you?
GiveWP is a powerful and popular donation plugin for WordPress websites. Using it, you can accept donations online from anywhere in the world.
In this GiveWP review, we will take a look at what GiveWP offers and how it actually works.
Throughout this review, we'll show you GiveWP in detail and provide you with alternatives so you can choose the right one.
With GiveWP, You can quickly raise funds for a cause with its secure and optimized configurations.
Platforms like GiveWP can be used for various purposes, such as charities, religious campaigns, political campaigns, crowdsourced projects, etc.
The GiveWP platform is also user-friendly, so even those with no previous fundraising experience can raise funds online without hassle.
One of the best things about GiveWP is that it is free to get started, and you don't have to pay anything upfront.
Although it offers many great features, the platform may be quite complicated for some users. Alternatively, you can use WP Simple Pay and WPForms if you simply want to take donations online.
First of all, is GiveWP the right option for you? Let's look at the plugin in more detail.
GiveWP Features
There are plenty of features you'll love with GiveWP. You'll receive these benefits when you create an account:
1. Customizable Donation Forms
You can design beautiful forms to enhance the donor experience. Additionally, you can collect crucial donor information such as contact information and donation reason.
There are a variety of forms to choose from, as well as modal popups, buttons, and more.
2. Custom Campaign Goals
You can boost donations by showing users fundraising targets as well as the amount they have already raised.
GiveWP lets you customize the color of goal bars. You can display and track the amount donated, the number of donors, and the number of donations.
3. 18+ Payment Gateways
With GiveWP, you can accept payments using PayPal, Stripe, Authorize.Net, Square, and many other platforms.
To donate, your users have the option to choose their preferred method of payment. As a result, you won't miss out on funds just because the donor needs the right payment method.
Moreover, GiveWP is backed by a professional team that's constantly innovating. To accommodate users worldwide, they are constantly adding new payment gateways.
With a donation gateway, you are in full control of donation options, amounts, and more.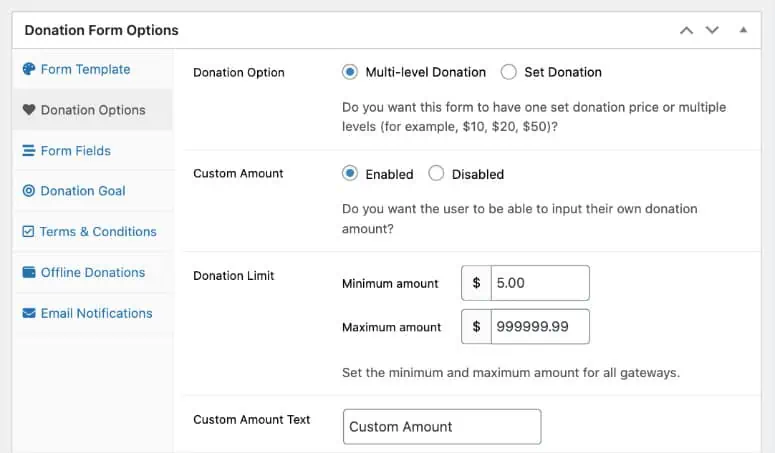 Additionally, you can set limits for the minimum and maximum donation amounts.
4. Recurring Donations
You can set up recurring payments for donors to donate to causes that need funds on a regular basis.
Furthermore, donors can choose the frequency in which they want to donate, such as weekly, monthly, or annually. They can also customize the contribution amounts.
YYou can let your donors choose their own frequency and amount.
5. Text-to-Give
This add-on lets donors send money directly from their mobile phones. It's powered by Twilio and Stripe. You'll have to connect GiveWP to Twilio.
With the help of this amazing tool, you can easily create and customize text donation forms with a dedicated donation number.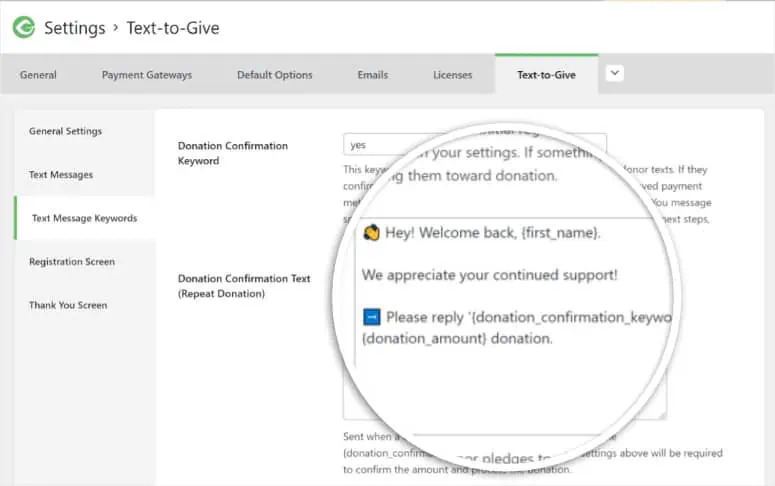 It's just a text message with the amount you want to donate. The users will receive a confirmation message and a thank you text message as well.
It is a paid service and costs about $1 per month per number. Each SMS you send or receive costs $0.0075. The price may depend on how many donors and SMSes you send.
6. Powerful Donor Management
This powerful feature helps you keep track of your website donors to see who is the top donor and who donates regularly.
Additionally, you can view the complete history of donations, such as registrations and payments.
In addition, you can import and export donor and campaign data for reporting.
7. Full Featured Reporting
With key indicators, you can gain valuable insights into fundraiser performance. You can also even track eCommerce and see traffic behavior.
You can also sync your GiveWP account with Google Analytics for deeper insights.
8. Integrations and Addons
You can connect GiveWP to powerful email marketing platforms like MailChimp and Constant Contact. It is also compatible with Salesforce Nonprofit Success Pack (NPSP).
Do you want to add upsells and cross-promotions to your WordPress website? GiveWP WooCommerce integration allows you to maximize your campaign success.
You can extend the functionality of GiveWP through add-ons and integrations. The add-ons include:
Fee Recovery
Currency Switcher
Tributes
Annual Receipts
Gift Aid
The list goes on and on!
GiveWP Latest upgrades
GiveWP version 2.22.0 comes with a number of upgrades, fixes, and a new integration with SendWP for email deliverability.
They have also added Google Analytics 4 integration and enabled donation categorization.
Version 2.22.0 has two very important and highly demanded updates:
You can now use Google Analytics 4 with your GiveWP forms!
You can also sort donations by category 3 in your Google Analytics 4 reports. Donation types will appear as
one-time: The donation is one-time only.
subscription: This is a recurring donation.
Renewal: A recurring payment that follows a subscription (recurring donations).
Email deliverability is a common frustration among WordPress users (and website owners worldwide).
It can be difficult to set up your website-sent emails correctly. It's still an essential part of a fundraising website, and donor receipts are necessary for your donors.
No matter what the issue is, you'll get a solid solution.
GiveWP 2.22 includes SendWP. You only need to click to connect to SendWP. Once you've signed up, you're done.
You won't have to worry about emails ending up in spam anymore. If they do, SendWP has your back and can assist in troubleshooting.
There are more improvements in GiveWP 2.22. Click here to checkout.
9. Multiple Campaigns
You can set up multiple campaigns together with GiveWP so that you can raise money for different charities.
They also offer peer-to-peer fundraising services. You can use this to allow your users to create donation campaigns similar to GoFundMe, Indiegogo, and Kickstarter.
Pros and Cons of GiveWP
GiveWP Pros
You can get started with GiveWP for FREE! It costs you nothing to download the plugin and set it up.
They offer a 100% money-back guarantee. You can get a full refund if you're not happy with the plugin.
If you wish to cancel, you must do so within 30 days of making your purchase.
The package includes plenty of extensions and add-ons. It is unlikely that you will not have a particular feature.
Setup is easy, and donors can pay easily. It's a win on both sides.
The simple interface of GiveWP is an excellent choice for beginners. Configuring the donation form and other settings is easy with the setup wizard.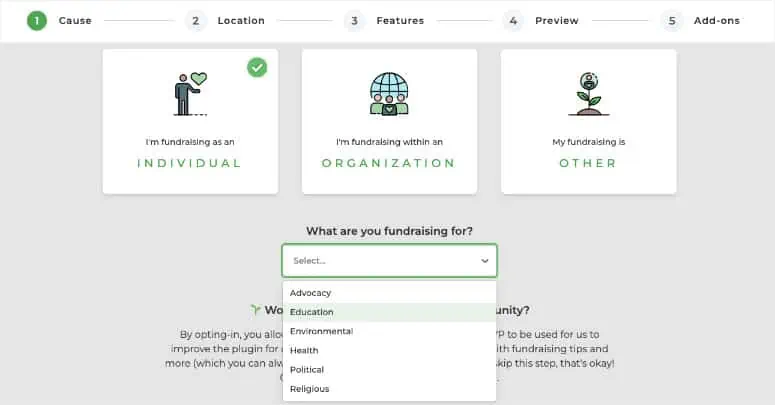 The platform is also developer-friendly. WordPress hooks are used on the front end and back end, so if you have no experience in coding, you can easily customize its functionality.
GiveWP Cons:
The free plan offers very limited features. You can accept donations only with PayPal and Stripe.
It also offers donor management and reporting.
Support takes about two business days to respond.
If something goes wrong, your fundraising campaign can be put on hold for a few days.
The GiveWP documentation covers everything from basic setup to advanced customization. A free plan is a good option for you if you are on a tight budget.
In order to get better features and priority support, you'll need to upgrade.
Even though GiveWP offers a lot of extensions, they are part of the pricing plans.
Therefore, you cannot purchase add-ons separately. To access these features, you must subscribe to a higher plan.
Is the premium GiveWP plugin worth it?
GiveWP Pricing Plans
GiveWP offers 2 types of pricing plans for fundraising services.
The first one is the WordPress donation plugin. You can get started for free and upgrade later on as your website grows.
Paid plans include:
Basic: $149 per year for a single site license. You will have access to basic tools and add-ons. Additionally, you'll receive 2-hour priority support.
Plus: $349 per year. The license is valid for 1 website. Besides everything in the basic plan, you'll also get premium add-ons.
Pro: $499 annually. This plan is intended for freelancers, developers, and agencies.
Agency: $599 annually. This plan is good for agencies. The package includes a 5-site license, all premium add-ons, and VIP technical support.
Plus and Pro are very similar. Plus plan allows you to license just one website, while the Pro plan gives you access to 5 sites with premium support.
GiveWP now includes peer-to-peer fundraising capabilities, and this feature allows users to create their own fundraiser campaigns.
Get all the add-ons just for $349.
GiveWP Review Final Thoughts
Is GiveWP true to its tagline 'More Donations, Less Hassle'?
Having tested it for a few days, I'd say it does.
It has been simplified to create professional donation forms, and many features have been added that will improve brand loyalty, develop personal relationships, and increase donations.
With GiveWP's core version, you can build a profile of all donors and donations and analyze their activity.
If you are working on a major fundraising project, you can export donor data into email marketing, accounting, customer relationship managers, help desks, spreadsheets, and more with premium marketing add-ons.
The versatility of GiveWP makes it more useful than most WordPress donation plugins.
If you like this GiveWP review, then do share it with your friends.
FREE DOWNLOAD
Ready To Make Money Affiliate Marketing
Learn These 7 Pillars of Affiliate Marketing I've Used To Create A Hyper-Profitable Affiliate Business From Scratch So You Can Make Your First Commission Online…