When you write long content for your newly created website and you publish it and now you are expecting, your content will be ranked.
But is it?
You saw, After 7 to 8 days your blog post is still not on Google and your rest post rankings also went down.
Whenever you write content and publish it on Google, Google crawls it and if your content is found somewhere else on the internet then Google penalizes you.
Sometimes newbie bloggers copy the content of other websites and paste it to their website and publish it to Google.
Most of the newbie bloggers do it and if you are also one of them, then please don't come in the blogging industry because you are just wasting your time and money.
But what if, You can also check your content plagiarism before Google's crawler does the same.
In this article, we will explore the top plagiarism checker tools for bloggers but before that, we will a little bit more explore Plagiarism.
What is plagiarism
To be clear and simple, Plagiarism means whatever you have writing in your content is found somewhere else on Google.
Suppose you are thinking about a topic to write on your blog and the most probably tons of content is already available on Google about that topic.
So, whenever you write, Some pieces of your content may be matched with other website content.
and that is called unintentionally Plagiarism.
Some newbie bloggers copy the content in a different style. They copy one paragraph from 10 different websites and include those paragraphs in their blog post.
and they think their content is unique now but it is the worst thing a blogger can do with there website.
Types of Plagiarism
1. Global Plagiarism: You copy one by one word of someone's content and present it as your content. It is the worst way to copy someone.
2. Mosaic Plagiarism: You copy someone else's phrase without giving them a proper citation.
3. Self Plagiarism: You write two blogs on your website and the content of both the blogs is similar.
You have to optimize your blogs for better content.
4. Accidental Plagiarism: There are tons of content available on the internet and whenever you write, Your content may be matched with other website's content.
Google's Action Against Plagiarism
Whenever you search on Google, You get several results with different content values.
If you didn't get your search query intent in the first position of the results then you point to other results.
Suppose you only get the same content on each website that you visit.
And each website doesn't serve what you want from your keyword intent.
then what will you think about Google?
It will destroy your browsing experience (user experience).
and if these things happened, then Advertisers will not put their money on Google Advertisements.
Now, Google will lose its revenue.
and, Google will strictly not allow this.
So if you write plagiarized content then Google will reduce your trust score.
and if you write plagiarized content again and again then your website's value becomes zero.
It means, your content will never rank on Google again.
Google also doesn't rank a slow website so make sure you must use Reputated Hosting Companies.
If you want to protect yourself from plagiarized content then you have to check your content on top plagiarism checker tools.
So, In the post, we will briefly discuss top plagiarism checker tools.
Best Plagiarism Checker Tools To Check In Your Content
Grammarly is a top-class Grammar checker tool, which helps you to make your English Grammar error-free.
Most of the bloggers and content creators use this tool to correct their Grammar Mistakes.
but they weren't aware that It can also help you to check plagiarism in your content.
Grammarly checks your content from over 16 Billion web pages for any plagiarism and it uses ProQuest databases to detect any duplicate content.
So this tool is not only for students or teachers but This tool helps many Content Creators and Bloggers.
and, If you are a blogger then you must use this tool to make your content better.
I am also one of them who uses Grammarly for plagiarism.
Due to its large database, There are very minor chances left for any plagiarism error and the most interesting thing is that It is a Free tool.
Yes, you heard right.
You can check the plagiarism in your content by visiting this link.
Copyscape is another best plagiarism checker tool which tells you data in real-time.
It is founded to detect plagiarism in your content and that is why it provides some essential features to bloggers and content creators to detect duplicate content.
There are two benefits of using Copyscape –
1 – Content is Duplicate or not: The first use of Copyscape is that You can check if your written content is plagiarized or not.
If you got any plagiarism in your content then you can simply replace that content with the new one.
2 – Protect Your Content: Some Newbie bloggers copy the content from websites and make a small change in the content and republish it on their website.
Now with the Copysentry program, You can catch your content from all around the world.
It scans the content daily and Emails you the report if it finds your content anywhere else on the web.
You can use its plagiarism checker tool with its free plan but it has some limited use.
So, their premium plan will be great for you.
Premium plan includes many good features like Copysenty etc. Their charge is 3 cents/search for 200 words and 1 cent/for every extra 100 words.
It will be a worthy investment for your website.
ProWritingAid is a great tool that is competing with Grammarly. It provides you grammar checking tools along with its Plagiarism Checker tool.
Its Plagiarism checker tools make it more competing with Grammarly but unfortunately, there is no free version of the Plagiarism checker tool.
But If you are a blogger or content creator then there is an opportunity for you, You can write for them, and If they publish your article then you will get a one-year free license of ProWritingAid.
Amazing, right?
But, everyone can't write an article and get their license.
You get a 50 Plagiarism check/year for any premium license and if you want to increase your Plagiarism check then you have to pay for it.
For 10 checks, you pay 10$. For 100, you pay 40$. For 500, you pay 120$. For 1000, you pay 200$.
The more you pay the more you get.
Plagscan is another best tool that allows you to check the "Authenticity of the word".
It has premium plans from individuals to school and businesses and if you are a blogger then its plan will fit into your pocket.
but again, unfortunately, this tool is not free but yet they are providing their free trial which you can use to test it.
and If you find it beneficial then you can purchase its private premium plan.
Its pricing starts from $5.99 for 6000 words (or $1/1000 words).
and if you purchase its higher subscription in the private plan then you will be charged $49.99 for 100,000 words (or $0.50/1000 words).
The more you use words in your document the more you pay.
Quetext is one of my favorite tools for checking plagiarism in the content. They use DeepSearch Technology to perform all the actions.
It is my all-time favorite tool for this action, I have used it for more than 1.5 years and there are no negative things about it
When you use quetext for plagiarism then your content will be compared to 20 million books, 35 billion pages, and 1 million journals.
and, This is more than what Grammarly claims.
It gives you 500 words to check for free (only three times) and if you want more then you can subscribe to their premium plan.
Premium version gives you up to 25k word limit per search, which is enough for any type of business.
You can upload up to 5 files at the same time to check plagiarism in the premium version but this is not allowed in the free version.
In its premium version, You get a Citation feature.
If your content is matched to somewhere else and you don't want to replace it then you can use the Citation feature.
Citation feature gives you the ability to instantly credit the original author.
Its pricing starts from $9.99/month.
and, This is worth buying this tool.
6 – WhiteSmoke
WhiteSmoke is another popular tool for grammar error correction and plagiarism checker among pro bloggers.
Its redesign makes it easier to use.
But, their plagiarism checker is not for free and there is also no free trial so you have to purchase this tool if you want to try this.
There is yearly pricing and 3-year pricing.
Yearly pricing cost about $59.95 and 3-year pricing cost about $124.95
You will get a Grammar checker, Plagiarism checker, and Translator with their basic premium plan.
DupliChecker is a free tool to check plagiarism and the best part of this tool is, This is completely free.
It doesn't charge you for anything but there is only one restriction, You can check plagiarism for up to 1000 words at the same time.
But you can easily divide your content and check it on DupliChecker.
You can upload the file, You can simply enter the URL of the webpage to perform a plagiarism check action.
If you are a blogger then you can use this tool.
Plagium is another top-class Plagiarism checker which helps you to make your content quality better.
If you have doubts over your content then you can quickly search your content here for the plagiarism but remember you have only 1000 words.
and, If you want to use it regularly then you have to purchase one of their plans.
You can also use their Deepsearch technology for plagiarism if you find anything wrong with your content.
The quick search costs 0.04$/page. The deep search costs 0.08$/page and If you do a file search, it will cost 0.005$/page.
and, There is one tip from my side.
If you want to use it more then you can use it on different browsers of the same system.
There are monthly plans available for this tool and you also get an attractive bonus if you purchase one.
Plagiarism check is an experienced tool existing in the market for more than 8 years.
You can use this tool to check plagiarism in your content, It has approx 77k users who certified its quality.
You get only one plagiarism search for free with this tool and if you want to use it more then you have to purchase its Premium version.
But don't worry, Plagiarism check license comes with a 14-day free trial.
So, if you didn't like the software then you can request for money back within 14 days.
There is two membership, one is for Organization and another one is for Individual.
Organization membership is not for bloggers so we switch to Individual.
Now, there are three plans –
You can check up to 20 pages in Light plan for $5.99
You can check up to 50 pages in Standard plan for $9.99
You can check up to 150 pages in Premium plan for $25.49
Now, If you are interested then you can go for one of their plans.
If you are a blogger then SmallSEOTool can help you in many ways. First of all, It has free of cost plagiarism checker which you can use anytime.
It has many features like Reverse Image Search, Keyword Density Checker, and Website Broken Link Checker, etc.
These are the essential features that a blogger wants.
Now, You can check up to 1000 words for plagiarism at the same time.
and, If you have a very limited budget then you can use this tool.
Conclusion
No matter, How great your content is.
If it is plagiarized then there is no value for the content. So you must use some genuine Plagiarism checker tools for your content.
I don't recommend Free plagiarism checker tools as it may also show wrong data.
So, I use Quetext and Grammarly for my content.
Quetext and Grammarly, both the tools have billions of pages to search so it can show more strong data.
Note: Please Share Your Thoughts On This Article By Commenting Below, I will be very thankful to you.
😀 Cheers!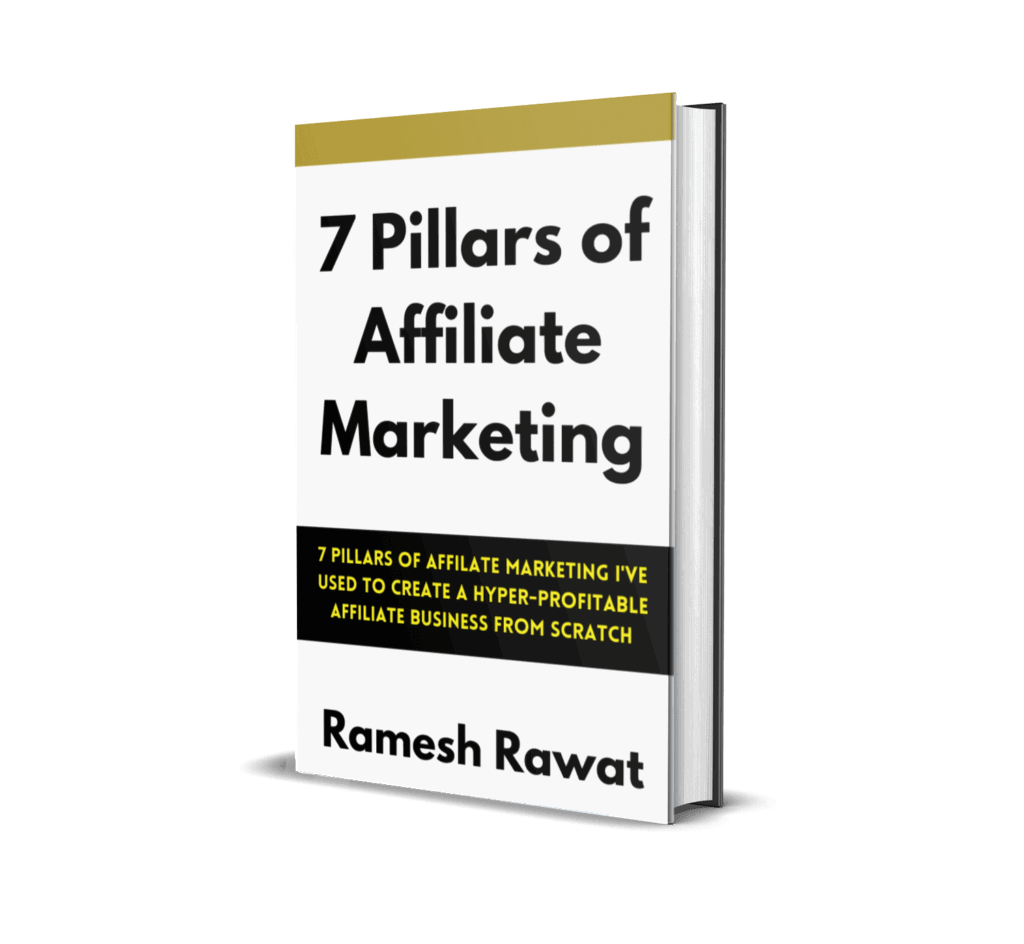 FREE DOWNLOAD
Ready To Make Money Affiliate Marketing
Learn These 7 Pillars of Affiliate Marketing I've Used To Create A Hyper-Profitable Affiliate Business From Scratch So You Can Make Your First Commission Online…