Do you want to rank your blog posts?
Well, there are many factors to focus on.
And a perfect Blog description can help you get more clicks.
Here is a quick and easy guide to writing better blog descriptions.
If your goal is to rank higher in the search engines, you must take blog descriptions very seriously!
There are no benefits of getting ranked in a blog post if you are not getting the clicks.
And if you want to increase the clicks on your blog post, you must write a compelling post description with the proper keyword.
Blog descriptions will help not only with branding but also increase traffic to your site.
Here are some tips on how to write a fantastic description:
It's essential to make your article descriptions compelling and reader-friendly for Google.
'There are many articles that don't rank because they don't use keywords in the description section, which is usually at the top before you get into text content.'
Blog or post description is the text that appears in search results after the link.
There are two types of descriptions:
1. Blog Description – It is a description of your home page that appears in search results below your website link when someone searches for your blog in a search engine, i.e., Google or Bing.
2. Post Description – It is a description of your blog post that appears below your blog post link in the search result.
If you master it, then you can get more clicks on your blog post ranking in the results.
How to Write a Blog Description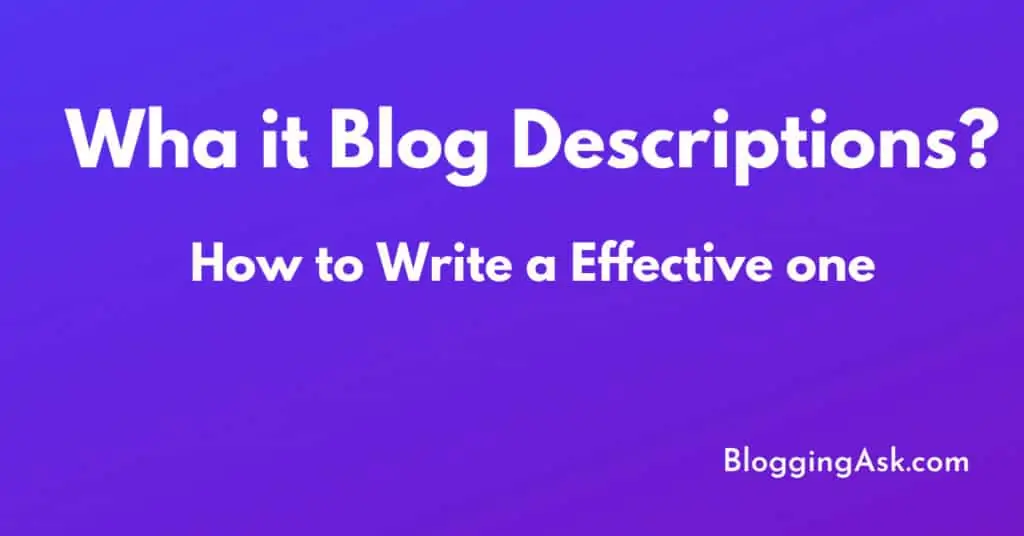 You may have a hard time writing your blog's description.
It can be tough coming up with something that will stand out and make people want to click on it, but we've got you covered! Here are some tips for how to write a great blog post description: 
1) Keep it short- keep the paragraph under 150 words at most. This way, readers don't get turned off before they read anything else you wrote in your article, or even worse, decide not to read any of what is written. Readers can be too lazy/busy/for whatever reason other than getting bored from reading so much text. 
2) Use keywords – use relevant key terms as often as possible when describing your blog post; just like SEO optimization these
A good blog description can help you to spread the word about your company, product or service.
When writing blog posts, it's vital to have an engaging description to get readers interested in your content.
Don't use the keywords in the meta description repeatedly. Google or any other search engine can consider it keyword stuffing which may lead to a penalty.

Your blog's homepage description helps your readers know what your website/blog is all about and the niche or topics you are covering in your blog.

You can write a click-worthy description for your blog's home page using any SEO Plugin such as Rank Math or Yoast. Below are examples of how you can write a better blog description.
Yoast SEO Plugin
In Rank Math Plugin, there is an option that allows you to edit your homepage description easily. 
Tips For Creating a Click Worthy Blog Description
Explain what your website is all about.
Showcase your expertise.
Add the topics that you are going to cover in the blog.
Write about your brand.
Some Examples of Best Meta Description
In this section, you'll find some of the best blog description examples from various niches like tech, health, and fitness travel.
These are some great ideas for you if you're looking into starting a new blog or redesigning your current one!
#1 BloggingWizard
#2 Smart Passive Income
#3 Wirecutter
#4 Blacklinko
#5 Tech Radar
How To Write a Blog Post Description?
To get more clicks from search results, you need to master the blog post description.
This section will show you how to write a click-worthy blog post description to get more clicks from search results.
I am using the Rank Math SEO plugin, which allows me to edit blog post descriptions while writing the blog post in the post editor.
See the example below:
It is also known as a meta description that appears in the search results below the page link.
Sometimes, it can be hard to describe your blog's content in a paragraph or two. It would take too long for someone interested but doesn't know what the blog offers them; they may leave without reading anything!

One way you could solve this problem is by only giving sneak peeks of your articles and writing captivating headlines so that when people search online, they click on your results instead of others'.

This will help you get more targeted traffic to your website, providing precisely what they want before even being given a chance to read the full blog post – solving their problems!
This way can increase your CTR, i.e., click-through rate, and get more traffic from search engines.
Tips To Write an Effective Blog Post Description
Blog posts are the backbone of your website.
So, what's the point of your blog post description if it doesn't attract visitors?
If you don't include attractive meta descriptions or appealing content, you may lose out on traffic from potential readers.
You might think that writing a catchy and exciting blog post title is all there is to it, but nothing could be further from the truth!
Many bloggers forget about their blog post descriptions because they feel this area doesn't matter as long as visitors find them on Google search results.
WRONG!
A convincing "hook" in your description can get someone's interest enough for them to click through, but if they arrive at what would otherwise seem like just another article with a boring blog post description?
They're gone – now back onto Google searching again…And you'll get a high bounce rate which will lead to losing RankingRanking.
Below are some tips which I used to get a boost in CTR and also Ranking.
Use Focus/Main Keyword in the Meta Description
Adding your main keyword to the blog description can help search engines index it easier.
Make sure that your keywords are strategically used in the description of each post.
Don't Forget to Include the Power Words.
Teespring used power words in the description, which helped them increase their conversion by around 12.7%.
Try Meta Description under 160 characters.
Do not make your descriptions more than 160 characters long, and it may look unappealing.
Add Call To Action
Make your call-to-action words more interesting, engaging, and creative.
Make it happen by using powerful language in your marketing materials like "Create a free account" or "Free Trial."
Be unique with content.
Bloggers know that a blog post description is the first thing potential readers will scan before deciding if they'll go any further. So make it unique and intriguing so that you can attract more readers to your posts!
Try to Use Conversational words.
Use words such as "I" and "we" to have a more personal experience. It allows one user to feel connected or immersed in the content.
Add LSI or related keywords.
Using LSI keywords in your description will not only help you rank on them, but it can also increase organic traffic by around 57%.
I am using this technique and have seen a significant improvement.
But don't add the same keyword because Google considers that as spamming, so be careful when doing it, or else you'll get penalized by Google!
Pro Tip: Help to get high CTR
Go to Google and search for the primary keyword.
Find the Google Ads that are showing for your main keywords.
Add some of their LSI keywords to your post description. 
This way, you can attract more visitors.
How to Optimize Keywords In Blog Post Description?
To increase the RankingRanking of your blog post in search engines, you need to include keywords.
Adding a keyword naturally in blog post descriptions helps send a strong signal of relevance to Google, so it makes sense that you should also include LSI keywords and Medium/Longtail keywords once or twice!
Conclusion of Blog Description
For crafting click-worthy blog descriptions, you have to learn the art of being concise with as few words as possible. Keep it short and sweet.
It would be best to make readers feel that your blog post will answer every question they have.
Although blog post description does not directly help you rank your website, it helps you get more clicks from the readers and get target visitors to your website.
FREE DOWNLOAD
Ready To Make Money Affiliate Marketing
Learn These 7 Pillars of Affiliate Marketing I've Used To Create A Hyper-Profitable Affiliate Business From Scratch So You Can Make Your First Commission Online…