What is a sales funnel?
A Sales Funnel is a term given to a process or a journey of a customer's purchasing decision. You can imagine a real-world funnel to understand what exactly Sales Funnel Marketing is.
A funnel usually has a broader top followed by a number of narrow sections.
So, when a customer lands on your website or a social media page, it means they enter into the broader top. Then, if a customer buys your product, he qualifies for the second section, and finally, they become a loyal customer.
However, a sales funnel depends on a brand's or a company's sales model and goal. Different funnels are applicable to different types of companies.
Many businesses don't understand how to make a good funnel. With a "Good Funnel," I mean to say that it should help in converting; otherwise, there's no point in making a funnel that cannot help you in making money.
So, in this article, we'll answer these questions—
1. What is Sales Funnel Marketing?
2. Why is it important?
3. What stages are involved?
4. How to build a successful Marketing Funnel?
5. How to use content marketing?
6. What are some best sales funnel marketing tools?
7. What are some common examples of a sales funnel?
What is Sales Funnel Marketing Important?
A Sales Funnel is a sales journey where you understand your potential audience's interests and want to purchase your product.
At every stage, you got to understand the behaviors of your audience and what can be done to make them your customers.
These insights can help you in getting the pain points of your audience, and by knowing these, you'll invest in the right kind of marketing activities.
By building a strong sales funnel marketing formula, you can increase your revenue by up to 10% of any other marketing stream.
There are numbers of Sales Funnel Marketing Tools available which you can use to create your own marketing sales funnel.
I recommend you use GetResponse because it has all the necessary features that a company needs to build a great sales funnel, and it's also cheaper than any other software.
You can also use Builderall to make a better Sales Funnel, and it is one of the best digital marketing platforms in the world which has 40+ digital marketing tools in one place for one price. You can run your entire online business on Builderall.
Sales Funnel are also important to develop trust factor. Suppose, whenever you run an ad on Google or Facebook, you try to increase your brand awareness, but it isn't easy to develop trust at first glance.
So, if you want to develop the trust factor (which plays a very important role), you need to keep engaging with your audience.
There are lots of ways to stay engaged with your audience like:
1. Organise a Webinar
2. Use Email Marketing
3. Increase Social Media Presence
4. Start a YouTube Channel
5. Start your own Podcast
What are all the Stages involved in Sales Funnel Marketing?
There is a journey from converting your visitors into customers, so you have to keep engaging them with valuable content.
You have to keep evaluating your prospects on this journey, like their behavior, interests, emotions, etc. Based on this data, you have to keep solving your customers' problems as well.
There are four stages that you consider that can help you in understanding the basic nature of your prospects-
1. Awareness
This is the first stage because, in this step, you have to make aware of the people of your brand or your company.
Your targeted prospects can be present anywhere like they may present on any social media platforms or hanging out on a blog post. Remember, they can be anywhere.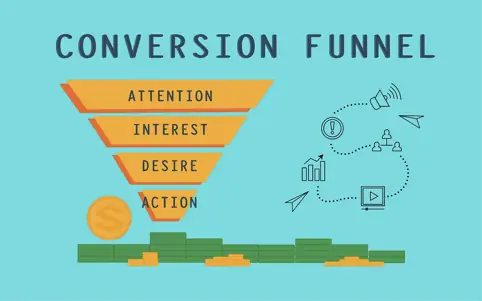 This is why you may have to run different kinds of ad campaigns on Google or Facebook to see what's working and what's not.
Sometimes, you have to give your audience why they should move down in your sales funnel. It, of course, depends on your advertising and marketing.
People who just came to know your brand and don't know who you have to pay attention to more.
Another effective way of spreading awareness is by producing good quality content like blogs posts, Social media content, video content, etc.
2. Interest
Next is "Interest," and there are two conditions in this, i.e., either your audience has already an interest in your product/service, or you have to develop an interest in whatever you are trying to sell.
The first condition is based upon people's needs, but the second one is more challenging where you need to put some effort into developing the interests in your customers' minds.
It also depends on your marketing strategies, like what kind of marketing strategies to create interest.
3. Desire
If you successfully create or develop an interest in your prospects' minds, they will be more likely to convert. Because if they are already interested in your service, then there would be a good chance of becoming your customers.
So, ensure that you provide enough value or solve real problems that exist; otherwise, it becomes difficult to sell anything.
4. Action
In this step, the person qualifies for every step and is finally ready to buy your product or service.
How to create an effective sales funnel for your business?
For building an effective sales funnel, you need to plan every step for your prospect who can move through that funnel.
Once you know what is good for your business, you are now good to go; you can now track your audience's behavior and engagement.
You can follow these steps to build a good sales funnel:
1. Building a website/landing page
The first step towards building a good sales funnel is to have a landing page or a website where you want your customers to land.
A landing page plays an important part in your funnel where you attract your audience with a good amount of value.
It could be a webinar, eBooks, checklists, etc. I have already mentioned in detail what is a lead magnet in my earlier blog.
2. Create a Lead Magnet
You might be thinking that what is the importance of it in the sales funnel? So, the reason is that whenever a customer lands on your blog, you can ask for giving their email by giving something for free.
You can use lead magnets to attract your audience like you can give something for free in exchange for their email addresses.
3. Nurture your audience
This stage is most important because you create an interest in your customer's mind towards your products.
As you already captured their email addresses, now it's time to send a series of emails one by one. You can share again some educational content that helps people in getting more interest in your product.
In this series, you can make a workflow that helps build the funnel in which you can also send promotional emails. But ensure not to overdo it; otherwise, your emails would land on the promotional tab, and you cannot nurture your leads.
4. Ask them to Buy from you
Whenever you sell something, there is a reason behind it. Likewise, whenever a customer buys something, he searches for a reason to buy.
So, if you want to make a customer yours forever, you have to give him a reason why you are the best in your field. In this way, he got to know why he should buy from you, not from your competitor.
You have to be very accurate about your vision towards your goals and your customer's goals also.
Sales Funnel Marketing works well when you sell something cheaper for the first time. If you just put a $2000 tag on your first product, this might harm your other sales funnel journey.
A price under $100 would be fine.
So, make sure that you are not exceeding this price for the sake of money.
5. Upselling
Now, this is again very important because if you become successful in converting those visitors to pay you first $100, you will be able to make them pay $2000.
But wait! You need to be patient because sometimes it only takes a minute to convert them, but sometimes it also takes months to gain their trust.
So, have patience. You are capable of upselling your products.
6. Keep Educating
Once you can upsell, don't just forget about your customers. Keep educating them and keep notifying them also about your latest offers or discounts.
This funnel can become a never-ending funnel because you are pushing your customers to buy only from you. This is why the Sales Funnel Marketing strategy works perfectly well if you follow all the above steps properly.
How to do Sales Funnel Management perfectly?
To make sales funnel management perfect, you need to find loopholes in your previously made sales funnels.
Some so many people are creating sales funnel in the wrong way.
To understand where the loopholes are, you have to analyze each step in your sales funnel.
E.g., if a person lands on your landing page, so have you written good CTAs? Have you explained your work professionally?
These seem like small things, but yes, if you want some conversion, you also have to pay attention to these things.
Let's look into this step-by-step-
1. Follow-up emails
Follow-up emails are those emails that you send to your targeted prospects to nurture them.
It sometimes becomes difficult to trust you, so they forget about you after their first glance. Emails help in building trust and staying engaged with your prospects so that they always remember you.
You can make a series of emails or workflow for the automation of these emails.
2. Deliver the right message
Whenever you send emails, you have to remember that you have to send the right message to your right audience at every stage. Otherwise, you may miss out on your customers.
Whatever emails you create, please make sure that they are not boring while reading or should not be too long.
3. Personalize your emails
To avoid your emails landing on promotional tabs, you should make your emails more personalized, like talking directly to them.
Also, avoid promotional words like "sale," "free," "offers," "discount," etc. These are known as spam trigger words, so avoid these as much as possible.
Use Content Marketing to Create Sales Funnel
Content Marketing is an effective way to create an effective sales funnel as well. You can use different ways to drive traffic to your sales funnel.
1. Use Blogging
With Blogging, you can generate awareness and interest in your product.
Creating blog content could be your source of traffic for your website, and it's also a better way to engage your list by sharing valuable content.
It is a good way to optimize with low-density keywords so that you can attract your targeted prospects from organic search only. Another good way is to promote your posts on Social Media as it can bring good traffic to your blog.
2. Leverage YouTube Videos
Who doesn't love to watch videos nowadays?
Videos are everywhere. You can leverage by creating YouTube videos and then asking people to sign up for the free giveaway. In this way, you would be able to generate enough leads for your sales funnel.
You can also create an explainer video if you don't want to show your face. Try to give every detail about your product.
3. Use Webinars
Webinars are again a good way to generate leads for your sales funnel. As people are aware of what webinars are, you can ask people to sign up.
But remember to give value in your webinar because I have seen many people who only try to sell products. There's nothing wrong with selling, but don't forget to give people value first because this is why they have come to you.
4. Use Social Media Marketing
Social Media is the reality of today. Every marketer is using social media these days.
You can use Facebook, Instagram, Twitter, and LinkedIn to build your community and then sales.
Social Media marketing funnels can engage your audience, build trust and create an authentic customer base for your brand.
Sales Funnel Marketing Tools to Automate Your Business
1. Builderall
Builderall is the most popular sales funnel tool that most businesses trust. Because of their easy-to-use software feature, anyone can automate their business. You have to only set up the whole marketing funnel at once.
It also consists of a one-click upsell tool that helps marketers in upselling. It can be an effective tool if anyone doesn't have a marketing budget to spend on marketing agencies.
2. GetResponse
This also works just like Builderall, but it is cheaper, starting just at $15/month. It has elegant-looking design funnels and is very cost-effective for beginner entrepreneurs.
GetResponse has all the features like setting up Webinars, Autoresponders, Email Marketing, and so on. You can easily get a FREE Trial for 30 days by just signing up.
3. Kartra
Kartra is another great option to automate your business. Its completely integrated landing pages offer a professional and aesthetic set-up for business owners.
It is completely customizable for eCommerce businesses. It is an incredibly effective option to facilitate the sales funnel marketing strategy.
Some Common Examples of the Sales funnel
You have finally understood what a sales funnel is, so let's see some common examples of a sales funnel companies are using.
1. AutoGrow.co
AutoGrow is a marketing company that offers sales funnel management services but uses an effective sales funnel itself.
They offer different packages for different goals of the companies. They follow a proper funnel for marketing:
1. Their first step is driving traffic and capturing leads by offering a freebie or newsletters.
2. Next step is their homepage, where the main call to action is to watch the demo video to book a consultation.
3. Last and final step is the pricing page to sell their services.
2. CrazyEgg
CrazyEgg follows a specialized marketing funnel.
They drive traffic toward their website via their blog, converting their readers into paying customers.
They also offer a 30-day free trial which is an excellent tactic to attract their audience.
Conclusion f What is a Sales Funnel
Last but not least, there is neither no particular way to create funnels. You have to use trial and error techniques for getting results. This process will make you a better marketer.
Remember that all the above steps are only dependent on your business. The more value you give to your customers, the more money you will make.
Always ask yourself, "What can be done better than this"?
This question will remind you every time that you should always think high and stay focused.
So, I hope you liked this blog if you have any doubts, let us know in the comments below.
FREE DOWNLOAD
Ready To Make Money Affiliate Marketing
Learn These 7 Pillars of Affiliate Marketing I've Used To Create A Hyper-Profitable Affiliate Business From Scratch So You Can Make Your First Commission Online…